Innovative technology firm, Flexpoint Sensor Systems Inc (OTCMKTS:FLXT), is engaged in developing products featuring the firm's patented Bend Sensor and related technology. A groundbreaking sensing solution, the Bend Sensor is revolutionizing applications in the safety, automotive, medical, and industrial industries.
The Sensor is a single-layer, thin film that cuts costs by introducing a number of functions. This is one of the first stylistic design possibilities in sending technology. The company's expertise and technology have been acknowledged by global businesses and academic innovators for more than 17 years. Flexpoint Sensor is setting new standards for sensing solutions in the "smart" age of technology.
Trading Data 
On Thursday, FLXT stock moved up 9% to $0.0300 with more than 842K shares, compared to volume of 163K shares. The stock moved within a range of $0.0298 – 0.0400 after opening trade at $0.0298.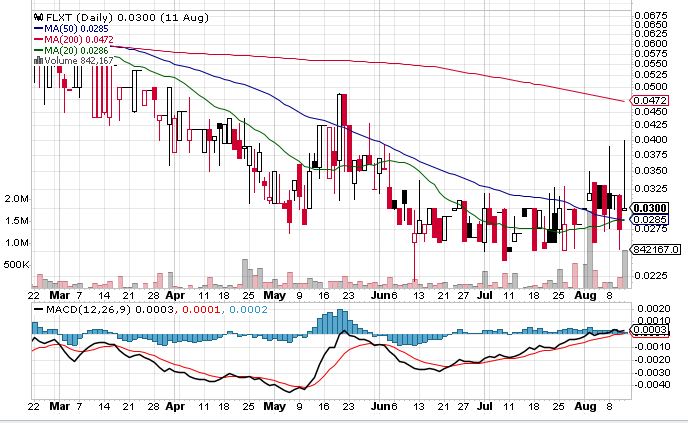 Flexpoint Receives Significant Interest in OCS System from the Automotive Sector
Flexpoint Sensor Systems Inc on August 11, 2022, announced receiving several requests for Occupant Classification System (OCS) for automotive seats. Since the requirements have changed at the federal level and surging interest in autonomous vehicles has ensured high market interest in the OCS for seats in automobiles.
The firm has got several requests for developing and adapting an OCS system specific to different vehicles. It is an advancement of patented technology, which led to past automotive contracts with major Fortune 50 automotive manufacturers.
Flexpoint Sensor Systems is working with both foreign and North American automotive manufacturers. The companies include Fortune 50 companies, foreign as well as domestic well-financed companies in the autonomous vehicle market spaces. They look forward to announcing production agreements and production schedules.
Clark Mower, President of Flexpoint said that the firm is excited to have technology executed in the traditional automotive industry. Mower further said that the company is excited about having it implemented into growing markets in the autonomous vehicle domain. The President also added that the firm is actively working with two of the fresh automotive manufacturers on developing a system for vehicles and has got several inquiries from other manufacturers. He opined that the expansion of application can be significant to Flexpoint.
Flexpoint Announces Delivery of Orders of Impact Detection Sensors to a Leading Manufacturer of Autonomous Vehicles
Flexpoint Sensor Systems Inc on August 3, 2022, announced initial deliveries under second purchase order for an Impact Detection System. The company has already forayed into an agreement with a manufacturer for providing an impact detection system in the US. An autonomous vehicle is a driverless vehicle capable of sensing the environment and moving safely with no human input.
The Bend Sensor can play a vital role in furthering autonomous vehicles in the marketplace. Once manufacturing commences, purchase orders will start escalating in the next few years.
Clark Mower, President of Flexpoint said that the company is excited about having the technology involved on the ground floor of significant advancement in the automotive industry. Mower also said that the firm is not limited to an exclusive arrangement with one manufacturer and will market a similar system to other autonomous vehicle manufacturers. As per Goldman Sachs, the forecast for the global AV market is estimated to be $96bn by 2025. In 2016, McKinsey estimated that about 15% of new vehicles sold in 2030 may be fully autonomous.
Technical Data
FLXT stock is trading above the 20-Day and 50-Day Moving averages of $0.0289 and $0.0286 respectively. However, the stock is trading below the 200-Day moving average of $0.0472.