TRON Group Inc (OTCMKTS:TGRP) is a holding company engaged in the acquisition of operating assets and companies in growing industries. The firm's aim is to grow by giving technical and management support under the public company umbrella.
Market Action
On Thursday, TGRP stock soared 87% to $0.70 with 104 shares, compared to its average volume of  109 shares. The stock moved within a range of $0.7000 – 0.7000 after opening trade at $0.7000.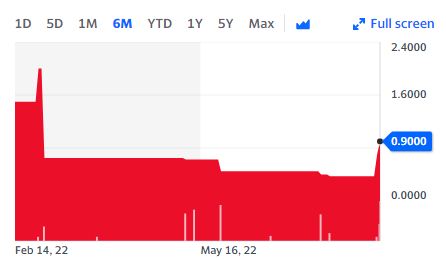 TRON Group, Inc. and Nanopharmaceutics, Inc. Announce Definitive Merger Agreement
TRON Group Incand Nanopharmaceutics Inc, a privately held clinical-stage pharmaceutical development company, announced on August 12, 2022, the signing of a definitive agreement for the merger of Nano with NANOP Acquisition Corp, in an all-stock transaction. Post consummation of the Merger,TRON will be changing its name to Nanopharmaceutics, Inc. The firm will continue to trade on OTC Pink market.
The merger was approved by both Boards of Directors of Nano and TRON. The all-stock transaction will see the merger of NANOP and Nano. TRON will be issuing five shares of authorized and designated Class A Preferred stock to Nano shareholders. This will be in exchange for all outstanding and issued shares of Nano. The firm is aiming to file corporate action with FINRA for the name change.
James D. Talton, Ph.D., President, and Chief Executive Officer, has been appointed the Chief Executive Officer, President, Secretary, and Director of TRON. The Board will initially comprise three members including TRON directors, Quoc Tuan (Jacob) guyen, and Stephen Michael Griffith. Jr as well as Dr. Talton, who will still serve as director and officer of Nano. The firm's headquarters will be in Florida.
Prior to the merger, TRON entered into an agreement for terminating the common control relationship with Impression VFX Inc. This included extinguishment of a convertible note in exchange for the return of certain assets as well as the termination of a service agreement.
The pipeline includes ten clinical-stage, proprietary as well as partnered programs including Triapine, Ammonium Tetrathiomolybdate and Aza-TdC targeting cancer. Furthermore, NanoBUP, PRX-3140, NP-18-2, and NP-18-3, target CNS whileRamoplanin and NanoDOX target infectious diseases. The firm is also furthering a large, undisclosed portfolio of preclinical development candidates.
TRON Group Announces Entertainment Rights Acquisition
TRON Group Inc on August 23, 2022, announced that the firm with the subsidiary Impression VFX Inc has acquired rights to a selection of projects for television and film, including treatments, screenplays, and concepts.
Jacob Nguyen said that it is a significant step forward for Impression. Nguyen added that Academy Award-winning director, Kieth Merrill, will be guiding the company in the development of the properties.Nguyen added that the company's previously announced partnership with Legend 3D enables it to do much of its post-production work in-house, reducing overall costs.
The new development for Impression expands the Company's role within the entertainment industry. The firm is continuing to grow the line of business even as it expands the library of projects and partnerships with creatives.