Developer of the world's first proprietary non-alcohol, hydrogen-based cleaning technology, Aphex BioCleanse Systems Inc (OTCMKTS:SNST) has been manufacturing germ-killing solutions for more than a decade. The technology, called Hy-IQ Water, has a novel mode of sanitizing, harnessing hydrogen ions traveling at the speed of light for breaching cell walls of exoskeleton germs. The company's tagline "We Kill Germs with Physics, Not Chemistry" expresses commitment to the environment by giving non-Chemical solutions for the spread of dangerous pathogens.
Market Action
On Friday, SNST stock gained 8.70% to $0.0250 with 4.6K shares, compared to its average volume of  9.7K shares. The stock moved within a range of $0.0250 – 0.0250 after opening trade at $0.0250.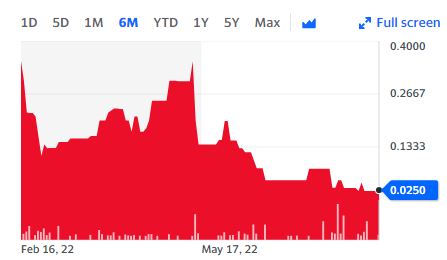 Aphex BioCleanse Systems Inc Announces It Has Filed A Debtor In Possession Plan In The Florida Middle District Bankruptcy Court
Aphex BioCleanse Systems Inc on August 15, 2022, confirmed on timely filing Debtor in Possession Plan with Court. The firm had filed a voluntary petition under Federal Bankruptcy Code, Chapter 11, Subchapter V with the Petition being filed on May 12, 2022, in the United States Bankruptcy Court Middle District of Florida Tampa Division.
David R Olund, President said that the filing of the DIP plan is a significant step in the recovery and reorganization of Aphex BioCleanse Systems Inc. Olund added that the company is seeking DIP investment capital, which can set it on a robust course of profitability and operational stability.
The bankruptcy filing was precipitated by litigatory actions of previous Corporate Directors along with other shareholders, viewed by current management as an effort at a hostile takeover and without any reasoning. The firm views this as an attempt to damage shareholder interests. Aphex management is working continuously for relaunching the marketing with fresh germ-killing products as well as engaging the necessary DIP financing.
David Olund – President expressed gratitude to the majority of shareholders being served and supporting the incredible technologies of the firm. He is looking ahead at a consensus on DIP Plan, which finally is voted by shareholders and company creditors.
Aphex BioCleanse Systems Inc has filed a voluntary petition under Federal Bankruptcy Code, Chapter 11, Subchapter V. The petition was filed on May 12, 2022, in the Florida Tampa Division of the United States Bankruptcy Court.
Precipitated by the litigatory actions of some officers and Directors, the filing has damaged the business integrity of the firm. It has also endangered the shareholders besides inhibiting its ability to raise working capital and market products.
These actions include unfounded and illegal filings in Nevada. Furthermore, there have been several illegal emails and communications designed for misinforming the company's distributors and shareholders. It includes the former CEO and Chairman implementing false documents impersonating the various titles months after being terminated. The former CEO is now a key figure in damaging the reputation and taking over the firm.
Aphex is now planning to submit a timely reorganization plan. It is also seeking Debtor in Possession Financing for driving the marketing of the novel sanitizing water known as Hy-IQ and related products.
Traders Note
SNST stock is trading below the 20-Day and 50-Day Moving averages of $0.0330 and $0.0554 respectively. Moreover, the stock is trading is the oversold zone with RSI stands at 21.