Buyer Group International Inc (OTCMKTS:BYRG) is a mineral and natural resource company focusing on mining and mineral-rich assets in the Western United States. The firm's vision is to ensure rich deposits as well as reserves of platinum besides metals such as palladium, rhodium, and copper.
Trading Data 
On Friday, BYRG stock moved down 1.56% to $0.0063 with more than 4.12 million shares, compared to volume of 3.15 million shares. The stock moved within a range of $0.0058 – 0.0069 after opening trade at $0.0069.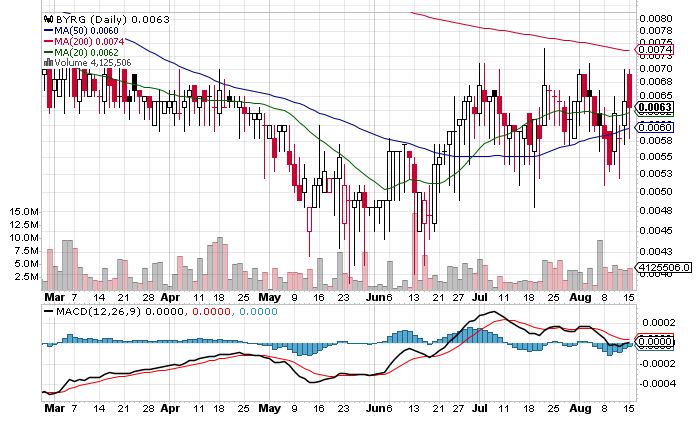 Buyer Group International, Inc. Announces Significant Mineralization Intersected Using XRF Technology at Flagship Exploration Project "Shambhala"
Buyer Group International Inc on August 15, 2022, announced several high-grade intercepts at flagship exploration project "Shambhala" harnessing the handheld model of XRF technology.
Some key highlights include 860 ppm Cobalt & 4660 ppm Zinc intercepted through outcropping feet from Shambhala #71 tunnel as well as 9620 ppm Titanium, 14 ppm Rhodium, and 113 ppm Palladiumintercepted through tailings piles. Furthermore, 49 ppm Platinum and 15 ppm Rhodium was intercepted by targeting vein material. Additionally, Rhodium was successfully intercepted all 4 times at a 100% success rate.
XRF tests were done across the entire property for targeting the presence of high-grade PGM mineralization. Shambhala #71 Adit/Tunnel, as well as tailings piles, were closely inspected for performing the tests. The results from three locations demonstrate several readings justifying the continuation of an extensive exploration program. Furthermore, Rock ore samples have been taken from all locations for testing and confirmation of previous results.
Buyer Group International, Inc. Announces Successful Closing of Capital Raise & Immediate 1.3 Billion Common Issued Share Reduction
Buyer Group had set a date of August 8th for Steven Cyros of Red Beryl Mining Company Inc to be on-site. The goal was to do further analysis of XRF results & corresponding locations. The first focus was on the visible platinum vein in Shambhala #71. Cyros had spent the entire week working with the company for planning an extensive exploration program based on the findings.
Buyer Group Chief Executive Officer David A. Bryant said that the company is extremely excited. Bryant added that they felt leaving Shambhala empty-handed in the previous year due to harsh snowstorms forcing an early exit. Bryant added that the current year is important both for the firm and investors to receive the results required. The CEO also said that the firm is on the correct track as there is high-grade PGM mineralization present around Shambhala.
Buyer Group International Inc on July 21, 2022, announced securing commitments for financing for the completion of the 2022 exploration goals at the Shambhala Project.
The company is immediately looking at reducing the outstanding common stock by 1,372,940,118 shares. Its total outstanding common trading shares post cancellation of 1.3 billion shares is 10,000,000,000 for about a 12% reduction.
Mr. David Bryant, President of the Company said that the company is showing appreciation to shareholders for their support during the off-season. Bryant added that the firm is progressing forward on the commitments. He further added that Buyer Group International will explore more ways of augmenting shareholder value. The President also said that the firm will be releasing supplemental information as well as additional photos on the first season's exploration efforts.
Technical Data
BYRG stock is trading above the 20-Day and 50-Day Moving averages of $0.0060 and $0.0061 respectively. Moreover, the stock is trading above the 200-Day moving average of $0.0070.