Emerging diversified investment company based in Las Vegas; China Dongsheng International Inc (OTCMKTS:CDSG) is based in Las Vegas. The company's main activity is to invest both in public and private entities in natural resources, technology, and several other sectors.
Trading Data 
On Tuesday, CDSG stock moved up 17% to $0.0280 with more than 43K shares, compared to a volume of 128K shares. The stock moved within a range of $0.0230 – 0.0280 after opening trade at $0.0230.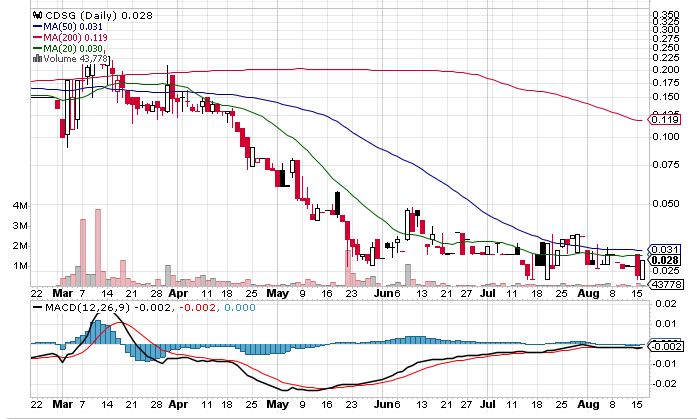 China Dongsheng International Change of Officers and Directors
China Dongsheng International Inc on August 17, 2022, announced the appointment of Mr. Craig Alford as a Director.
Alford has both an Honors Bachelor of Science as well as a master's degree in science. A registered Professional Geoscientist, Alford has diverse business development and project experience. He has worked across Australia, Asia, Central Asia, Australia, China, South America, and Russia. In the last seven years, he has been engaged in projects in the battery metals sector.
Appointed as interim CFO, Alford replaces Caren Currier, the current CFO. Furthermore, Lowell Holden, a veteran of corporate finance, serving as CFO of Nascent Biotech Inc. and Controller of Barrel Energy has been appointed as Controller for the firm. The firm has focused recently on a number of ventures addressing energy needs for tomorrow and today, with initiatives for recovery, lithium production, and energy storage solutions for electric vehicles.
Cdsg Plans Drilling On Large Carlin Type Gold Target In Nevada
China Dongsheng International Inc on May 5, 2022, announced an update forCarlin-type Walker Ridge Gold Property located in Elko County, Nevada. Accessible about 60 miles north of Elko Nevada, the Walker Ridge project is just off Highway 225. The Ridge claims cover the area of Jerritt Canyon gold mines, operating by First Majestic Silver Corp.
Walker Ridge has a broad geochemical and geophysical anomaly indicative of a Carlin gold type deposit. Anomalies of similar types in the same geologic units have led to the success of nearby Jerritt Canyon deposits. These have now produced more than 9.7 million ounces of gold from both open pits as well as underground operations.
Production from CTGDs makes up a significant part of Nevada's output. It is also the backbone of Nevada Gold Mines, a joint venture between Newmont gold and Barrick Gold, producing about 2 million ounces per year.
The new drill program has been approved by the state authorities, in which the company is intending to investigate the over-mile-wide 'bullseye' geochemical as well as gravity anomaly. Furthermore, results from the Controlled Source Audio-frequency Magnetotellurics survey done by an earlier investigation had identified northwest-southeast trending resistive feature. This was within a broad resistivity low looking identical to the classic CTGD mineralization model.
Craig Alford, CDSGs' President, and a Professional Geoscientist said that it is an elephant country for gold deposits. The company is excited about Walker Ridge checking the boxes of the features belonging to the Carlin-type gold deposit. Alford also said that the drill program aims to combine later diamond drilling with reverse circulation for maximizing the investigative scope of the big target.
Technical Data
CDSG stock is trading below the 20-Day and 50-Day Moving averages of $0.0285 and $0.0311 respectively. Moreover, the stock is trading below the 200-Day moving average of $0.1186.