An emerging leader in organic plant-based nutritional science and innovation, NutraNomics Inc (OTCMKTS:NNRX) on August 24, 2022, announced that The Plant, its company, has achieved a vital milestone for manufactured units of quality cannabis-based products.
Trading Data
On Wednesday, NNRX stock ended flat at $0.0003 with more than 50.56 million shares, compared to volume of 89.37 million shares. The stock moved within a range of $0.0002 – 0.0003 after opening trade at $0.0003.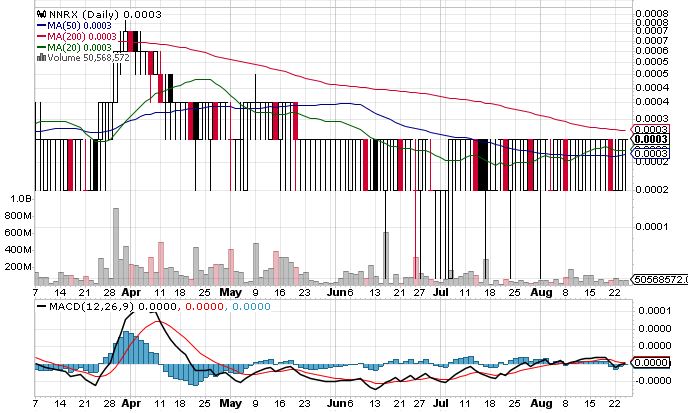 The Plant Achieves Production Milestone For Units of Manufactured Product
The company has manufactured about 765,974 product units since January 2022 and is anticipating exceeding 1.15 million units by end of 2022. It is being led by robust sales in Concentrates and Vape Cartridge categories. The rate of growth is expected to boost production further.
Jonathan Bishop, NutraNomics' CEO said that the production team is proud and excited about having achieved an important milestone. Bishop added that the firm is building production capacity for serving the industry in innovative and new ways. Furthermore, he said that the milestone is the first indication of the dedication to uphold the commitment.
Key Quote
"The Plant's Production team is excited and proud to have achieved such an early-stage and important production mark," remarked Jonathan Bishop, NutraNomics' CEO." "As previously stated, the company is developing and building production capacity to serve the industry in new and innovative ways, and this milestone is just the first indication of our dedication to upholding this commitment."
The Plant Partners with Top Cannabis Agency Essential Good to Launch Additional House Brands
The company on August 12, 2022, announced that the Plant partnered with Essential Good, a top visionary cannabis product design firm from San Francisco developing branded cannabis products.
Daniel Stein, CEO of Essential Good said that The Essential Good team is excited about working with the company. Stein added that the firm has an immense opportunity and is looking forward to supporting for laying the groundwork for the future of the cannabis industry.
Essential Good has led the cannabis space for seven years, facilitating the launch of over 25 top brands for national leading cannabis businesses.
Technical Data
NNRX stock is trading below the 20-Day and 50-Day Moving averages of $0.0003 and $0.0003 respectively. Moreover, the stock is trading below the 200-Day moving average of $0.0003.