This morning most investors are going to be looking into those stocks which may have made a big move on Thursday and if that is the case, then it is going to be difficult to overlook the CNBX Pharmaceuticals Inc (OTCMKTS:CNBX) stock. The stock was in sharp focus yesterday and ended up with gains of as much as 20% amidst heavy interest.
Market Action
On Thursday, CNBX stock gained 19.69 % to $3.89 with 1.9K shares, compared to its average volume of  380 shares. The stock moved within a range of $3.0700 – 3.8900 after opening trade at $3.07.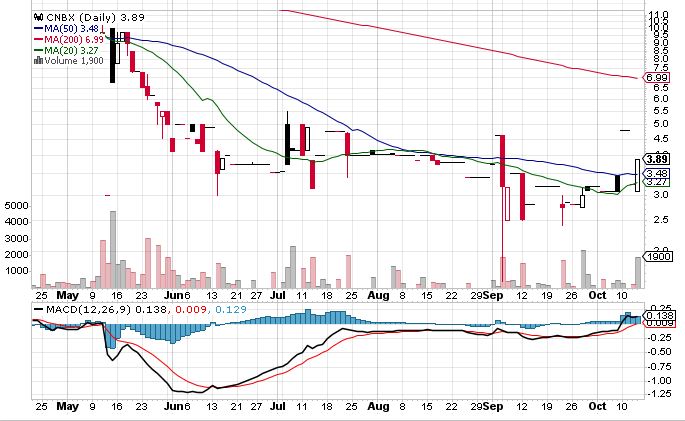 CNBX Patent Application "Composition and Method for Treating Cancer with Cannabinoids" Enters National Phase in US and Israel
The rally was triggered after it was announced by CNBX that it had submitted the patent application for "COMPOSITION AND METHOD FOR TREATING CANCER WITH CANNABINOIDS" back on October 12, 2022 to the United States Patent and Trademark Office.
In addition to that, an application had also been filed with the Israel Patent Office under the provisions of the national phase of an International Patent Application. However, the company also added that a national phase filing is also going to follow for Europe.
The patent application that the company filed could be applicable to many of the medicine candidates that are currently in the company's pipeline which are meant for treating the different forms of cancer. In light of the latest rally in the CNBX stock, it could be a good time for investors to add the stock to their watch lists.
Technical Data
CNBX stock is above the 20-Day and 50-Day Moving averages of $3.45 and $3.48 respectively. However, the stock is trading below the 200-Day moving average of $6.99.  The company has a total market capitalization of $3.89 million.