Media and digital technology holding company, Touchpoint Group Holdings Inc (OTCMKTS:TGHI) on October 19, 2022, announced an agreement with Geometric Energy Corporation for advising on space and satellite communication projects.
Market Action
On Wednesday, TGHI  stock ended flat at $0.0002 with 310.87 million shares, compared to its average volume of  95.96 million shares. The stock moved within a range of $0.0002 – 0.0002 after opening trade at $0.0002.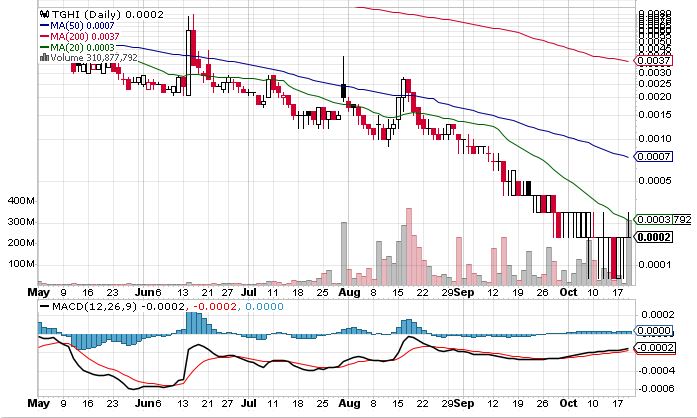 Touchpoint Group Holdings Announces Advisory Agreement with Geometric Energy for Satellite Communication Project
Touchpoint's MoU with Geometric Energy Corporation will be to advise on satellite communication and explore the utilization of the XI Protocol. Geometric Energy utilizes space infrastructure through Metaoracles for leveraging existing global satellite communication (SATCOM) networks.
XI Protocol is the pioneering introduction of Web3-connected space infrastructure, especially with two products- in-space LED displays inside of earth-orbit and Metaoracle leveraging existing global satellite communication networks for an oracle aggregator system.
Touchpoint management has more than three decades of experience in making distribution networks for satellite products and telecommunications. The two companies will explore collaborations and joint ventures in satellite communication and services.
In August 2022, Touchpoint Group Holdings Inc provided a shareholder update, in which the CEO Mark White said that the company was making much progress in advancing the next-generation fan engagement platform. White said that the firm is working with several celebrities, fitness brands as well as influencers. The CEO further stated that the customer response has been positive and the platform is designed for bringing fans closer to celebrities. White also said that the company is working to integrate new blockchain machine-learning capabilities designed for intuitive analytic feedback.
Traders Note
TGHI stock is trading below the 20-Day and 50-Day Moving averages of $0.0003 and $0.0007 respectively. Moreover, the stock is trading below the 200-Day moving average of $0.0037.