Endexx Corporation (OTCMKTS:EDXC) has emerged as an interesting player in the innovative, sustainable, plant-based health and skincare products space in recent times. This morning it may be a good idea for investors to consider keeping an eye on the stock after the company made a major announcement yesterday.
Market Action
On Wednesday, EDXC stock surged 6.96% to $0.0845 with more than 249.45K shares, compared to its average volume of 343.61K shares. The stock moved within a range of $0.0740 – 0.0845 after opening trading at $0.0800.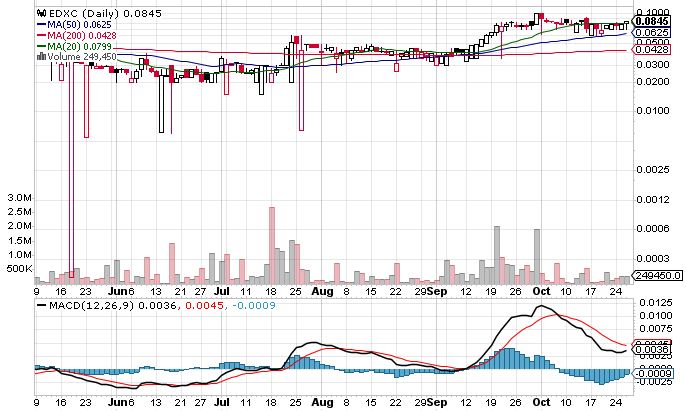 Endexx Achieves Distribution Registration for Hemp and CBD Products in Key States With More Strict Requirements
It announced that it had managed to bag hemp distribution authorization from as many as four states. The four states in question are Iowa, Louisiana, Texas and Alaska. It should be noted that these are states that are known for having fairly strident requirements when it comes to hemp distribution and hence, it was a significant milestone for Endexx.
The Chief Executive Officer of Endexx, Todd Davis, spoke about the development as well. He noted that the company had been a leader in the CBD industry since as far long back as 2014. However, he went on to add that as the company continued to expand the number of offerings it had also been vigilant with regards to the opportunities in bagging licensing rights in different state. It is a move that could ultimately expand the company's foot print in a big way. It remains to be seen if the stock comes into focus among investors today or not.
Key Quote
Todd Davis, CEO of Endexx, stated, "We have long been leaders in the CBD industry since 2014. As we have developed our products for a waiting market, we have also been extremely vigilant in ensuring that we complete each state's licensing and compliance requirements to distribute our products.  In particular, Louisiana has long been considered one of the most challenging states to receive registration to distribute CBD products and we are grateful for their collaboration as we have worked closely to achieve this milestone, along with registration in Texas, Iowa, and Alaska.  We continue to work diligently to achieve registration in all 50 states, all while carefully watching the changes federally."
Technical Data  
EDXC stock is trading below the 20-Day and 50-Day Moving averages of $0.0763 and $0.0625 respectively. Moreover, the stock is trading below the 200-Day moving average of $0.0428. The company has a total market capitalization of $44 million.