This past Friday Flexpoint Sensor Systems Inc (OTCMKTS:FLXT) was one of the companies that had been in the news cycle and it is going to be interesting to see if the stock come into focus among investors or not.
Market Action
On Friday, FLXT stock moved down 3.23% to $0.0150 with 235K shares, compared to its average volume 248.30K shares. The stock moved within a range of $0.0145 – 0.0170 after opening trade at $0.0145.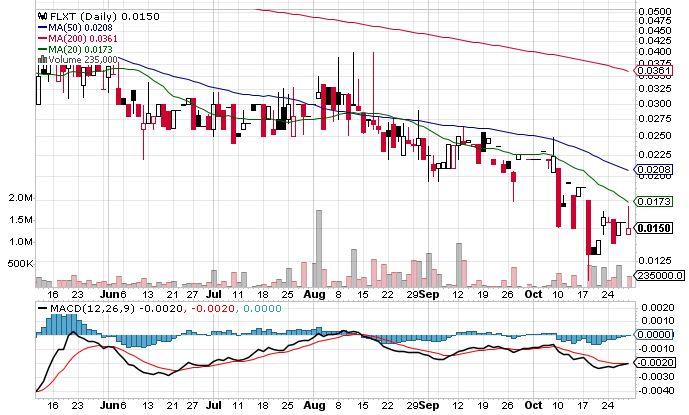 Flexpoint Announces Delivery of Additional Orders of Impact Detection Sensors to a leading manufacturer of Autonomous Vehicles
The company announced on October 28 that it had managed to bag an additional purchase order for a unit of its Impact Detection System. It should be noted that not too long ago it had been announced by the company that it had managed to get into an agreement with a major United States based manufacturing company to supply impact detection system. The product is meant to be used in the company's autonomous vehicle project.
Autonomous vehicles are supposed to move without a drive and are meant for navigating roads without any human interference. The company noted that the placement of the impact detection sensor in strategically important areas of the vehicle would help in promoting the cause of autonomous vehicles in the United States.
Autonomous vehicles are the next major frontier in the automobile industry and the fact that Flexpoint managed to get involved in the industry in some way could well prove to be a major long term boost.
Key Quote
Clark Mower, President of Flexpoint stated, "We are excited to see additional orders for impact detection systems so quickly after the previously announced deliveries and expect to receive additional orders in the near future. We continue to work in close coordination with the team from the autonomous vehicle company. This represents an important step in moving forward with this manufacturer. We expect orders to ramp up significantly throughout 2023. The expansion of this application could increase annual revenues exponentially."
Technical Data
FLXT stock is trading below the 20-Day and 50-Day Moving averages of $0.0170 and $0.0208 respectively. Moreover, the stock is trading below the 200-Day moving average of $0.0361.