It was a good day in the markets for shareholders of Star8 Corp (OTCMKTS:STRH) as the company's stock came into focus in a big way and ended up with gains of as much as 14% amidst significant interest.
Market Action
On Monday, STRH stock surged 13.85% to $0.0148 with more than 1.89K shares, compared to its average volume of 112.15K shares. The stock moved within a range of $0.0148 – 0.0148 after opening trading at $0.0148.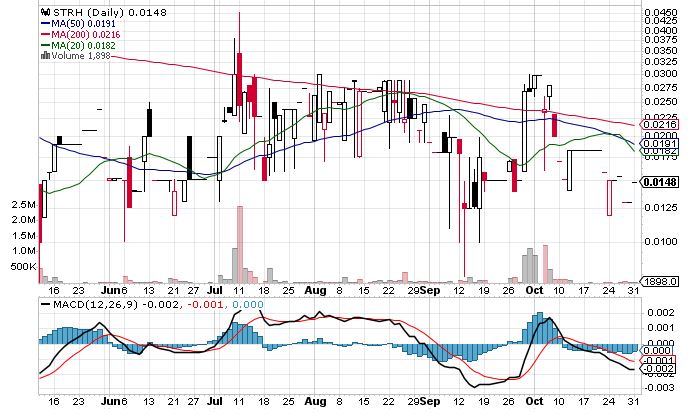 Star8 Corp. Announces Letter of Intent with Hyper 30 Data: A Nationwide Wireless Solutions Provider and IT Expert
The company announced yesterday that it had signed a binding letter of intent with the national technology integrating company Hyper 30 Data. In this regard, it should be noted that Hyper 30 is known for being specialists in the field of fiber optics, wireless technology and network equipment for facilities spread across multiple locations. It works with schools and hospitals and also counts many Fortune 500 companies among its clients.
That being said, the exact terms of the agreement between the two companies were not revealed in yesterday's press release. However, it goes without saying that it is a deal that could well prove to be a long term boost for Star8 Corp. The reaction in the markets was perhaps an indication about the long term possibilities of the agreement. Hyper 30 is based out of Florida and remains a leader in its industry at this point. It remains to be seen if the Star8 Corp stock can add to its gains today.
Key Quote
"Star8 is excited to welcome Hyper 30 Data to our family of companies," said Mario Diez, Chief Executive Officer of Star8 Corp. "With their industry leading innovation and reputation, supported by the scale Star8 brings, I look forward to seeing all that we can achieve together, as one team."
Technical Data
STRH stock is trading below the 20-Day and 50-Day Moving averages of $0.0169 and $0.0191 respectively. Moreover, the stock is trading below the 200-Day moving average of $0.0216.