Full service artificial intelligence powered digital marketing solutions providing company Argentum 47 Inc (OTCMKTS:ARGQ) is one of the companies that may come into focus among investors this morning.
Market Reaction
On Tuesday, ARGQ stock ended flat at $0.0426 with 434 shares, compared to its average volume 14.90K shares. The stock moved within a range of $0.0426 – 0.0426 after opening trade at $0.0426.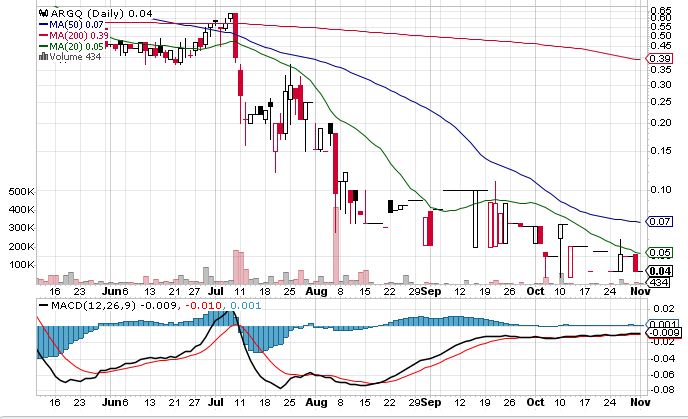 Argentum 47, Inc. Selects PCG Advisory Group for Investor Relations and Corporate Communications Services
The company was in the news cycle yesterday that it had retained the services of digital strategies and investor relations firm PCG Advisory Inc. PCG is going to work in the capacity of an advisor for the company in the fields of strategic communications and investor relations. It was a major new announcement from the company and it is going to be interesting to see if the Argentum stock manages to experience any action this week or not.
The Chief Executive Officer of the company Robert Stephenson spoke about the matter as well. He noted that since the times were exciting at Argentum, it had been decided by the company to further strengthen its investor outreach initiatives through the hiring of a top investor relations firm.
He went on to add that PCG is one of the leaders in that particular niche since it possessed strong relations in the industry, which would help Argentum in creating the right kind of outreach programs for existing as well as prospective investors.
Key Quote
Robert Stephenson, CEO of Argentum, stated "These are exciting times at Argentum creating a strong need to engage with a quality investor relations firm to enhance our corporate communications and investor outreach. PCG Advisory is a leading provider of strategic advice in all aspects of the financial markets and has a reputation of leveraging their strong industry relationships on behalf of their clients. With PCG on board, Argentum will be able to provide even more value to its investors and stakeholders by accessing PCG's expertise and insights. PCG will provide Argentum with high-level capital markets consulting, strategic corporate communications, and investor outreach as we continue to grow as a publicly trading company."
Technical Data
ARGQ stock is trading below the 20-Day and 50-Day Moving averages of $0.0536 and $0.0713 respectively. Moreover, the stock is trading below the 200-Day moving average of $0.39.