One of the companies which could well be worth looking into this morning is Orion Diversified Holding Co Inc (OTCMKTS:OODH). The company came into focus among investors on Wednesday after it announced that it had managed to pick up an acquisition interest in the Woodford Shale situated in Oklahoma.
Market Action
On Wednesday, OODH stock slid 10% to $0.0315 with 60.18K shares, compared to its average volume 106.37K shares. The stock moved within a range of $0.0300 – 0.0350 after opening trade at $0.0350.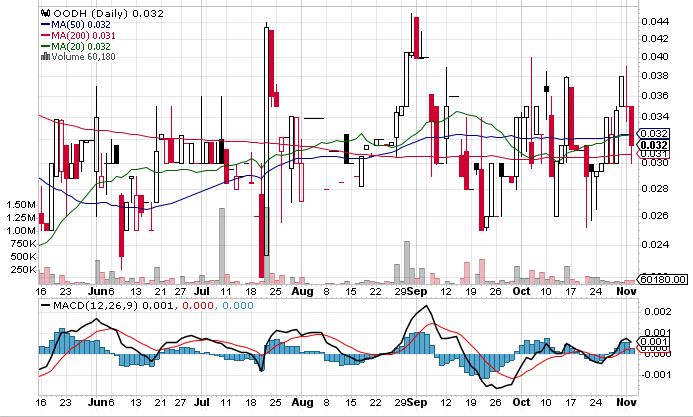 Orion Announces an Acquisition in the Woodford Shale of Oklahoma
It was noted that the company picked up a 0.62% royalty interest in the property. In this situation, it may be a good idea to have a better idea about the property in question. It stretches across an area of 160 acres and produces 5 bopd and 45 mcfpd from 1 vertical well.
It was a major new development for the company since the latest royalty acquisition meant that Orion Diversified took its mineral ownership to as much as 30481 acres in some of the best known onshore oil and gas zones in the United States.
Considering this development, it will be interesting to see if the Orion Diversified stock manages to come into focus among investors this morning or not. The Chief Executive Officer of the company Tom Lull spoke about the company's aims as well. He noted that Orion Diversified was going to go on a buying spree with regards to active oil and gas assets.
Key Quote
"We are going on a buying spree for producing oil and gas properties. This week we have negotiated and anticipate closing on a non-operated working interest in 9 wells located in East Texas. This week we have also negotiated and anticipate closing another operated property in West Texas." Commented Tom Lull, CEO of Orion. Oil and gas properties are very expensive, and we have been able to grow organically without issuing new shares or taking on loans."
Technical Data
OODH stock is trading below the 20-Day and 50-Day Moving averages of $0.0325 and $0.0325 respectively. Moreover, the stock is trading below the 200-Day moving average of $0.0310.