In recent times the eSports industry has grown at a fairly impressive pace and investors who may be looking into such stocks may consider taking a look at GGTOOR Inc (OTCMKTS:GTOR).
Market Action
On Tuesday, GTOR stock moved up 6.80% to $0.0110 with more than 1.60 million shares, compared to volume of 1.43 million shares. The stock moved within a range of $0.0103 – 0.0125 after opening trade at $0.0103.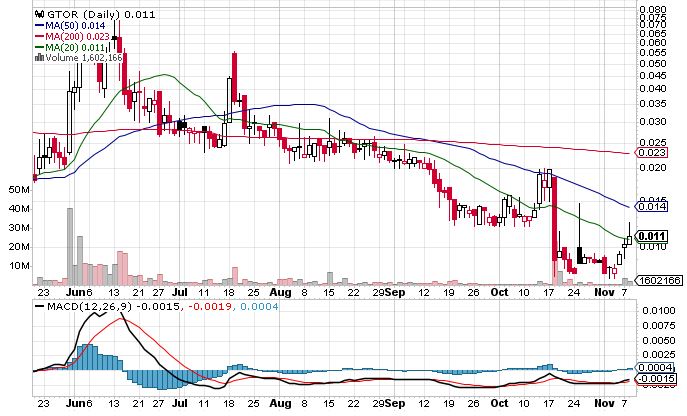 GGTOOR, Inc. (OTCMKTS:GTOR) Announces it Will Launch GGToor Media Network, a 24-Hour Gaming, Web3, Technology and AI News and Information Network
The stock was in focus yesterday after the company announced that it had established a new fully owned subsidiary unit named GGTOOR Media Networks Inc. The company further noted that the subsidiary was going to be launched in the next 90 days. The new subsidiary is going to run an around the clock live broadcast network which is going to be involved with web3, AI, gaming and other future technologies.
The news came as a source of considerable optimism among investors and the GGTOOR stock ended up with gains of as much as 7% as a consequence. It was further noted that the network is going to be fashioned in the way CNN had been in its earliest days with regards to events and news.
The network would focus on the latest game releases as well as interviews with innovators, influencers, CEOs and deal makers. It may now be a good idea for investors to consider keeping an eye on the GGTOOR stock over the course of the coming days.
Key Quote
John V Whitman Jr., the Company CEO, had this to say, "The Company continues to mature and evolve as market opportunities present themselves. We still believe strongly in the Metaverse, but the Company needed to establish products and services that will provide stability and consistent revenue opportunities. GGToor Media Network has matured from an idea born over a year ago to a full-blown business model. Management has quietly beta tested its broadcast capabilities and is ready both from a technology standpoint and a logistical standpoint to move immediately on building its first studio. On air talent interviews have begun and hiring upwards of 25 new employees will commence immediately."
Technical Data
GTOR stock is trading below the 20-Day and 50-Day Moving averages of $0.0105 and $0.0143 respectively. Moreover, the stock is trading below the 200-Day moving average of $0.0229.