The parent company of Golden State Bank, Golden State Bancorp (OTCMKTS:GSBX), was in the news yesterday after it announced its financial results for the third fiscal quarter of the year.
Market Action  
On Wednesday, GSBX stock ended flat at $17.60 with more than 1K shares, compared to volume of 85 shares. The stock moved within a range of $17.60 – 17.60 after opening trade at $17.60.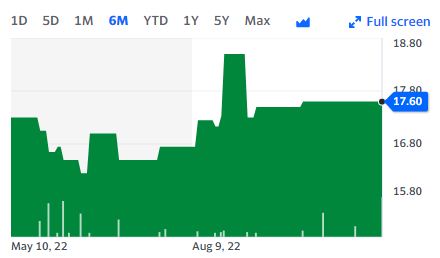 Golden State Bancorp Announces Third Quarter Of 2022 Financial Results
Ahead of the beginning of the trading day, it could be a good idea for investors to take a look at some of the highlights from the company's financial results. At the end of the quarter, the total assets under its control soared by as much as 20.9% year on year to as much as $636.5 million. On the other hand, the loan book, including deferred fees stood at $491.1 million and that reflected a year on year rise of as much as 18.1%.
In addition to that, Golden State Bancorp also noted that the quality of credit on its books remained strong. The cash and cash equivalents on its books at the end of the quarter stood at $115.1 million and that reflected a rise of 10.1% from the cash and cash equivalents of $104.6 million at the end of December 31, 2021. In the three months that ended on September 30, 2022 the company had managed to generate net income to the tune of $2.3 million.
Key Quote
Mr. Robert Setrakian, Chairman of the Board and Chief Executive Officer of the Company stated, "We had another great quarter. Despite the robustness of our loan and deposit pipelines, we plan on being cautious due to the challenges in the economic environment. Finally, I am pleased to report that we completed the third and final phase of our previously announced capital raise."