One of the companies which could well come on to the radars of investors this morning is that of Orion Diversified Holding Co Ltd (OTCMKTS:OODH) owing to a key development last Friday.
Market Action
On Friday, OODH stock ended flat at $0.0360 with 80K shares, compared to volume of 110.52K shares. The stock moved within a range of $0.0360 – 0.0380 after opening trade at $0.0360.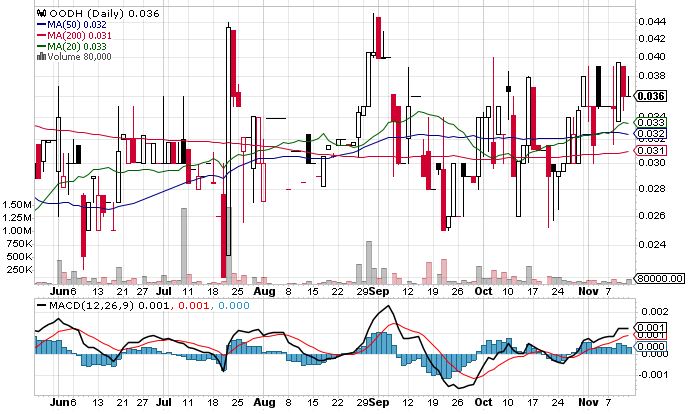 Orion Announces an Acquisition in the Stack Shale of Kingfisher County Oklahoma
The company announced on that day that it had been successful in picking up a royalty interest in the Stack Shale located in Kingfisher County in Oklahoma. The company announced that it picked up a royalty stake to the tune of 0.64% in the property that stretches across 156 acres. In addition to that, it is also necessary to note that an active drilling lease had already been permitted for the property.
It was another significant development for Orion Diversified considering the fact that the latest royalty interest acquisition took its ownership in some of the major onshore oil and gas zones in the United States to 33,637 acres.
The company also announced that a number of oil companies had already reported with regards to the initial production from the horizontals at the property. The production had been pegged at 6000 BOE per day. Orion Diversified noted that the potential income that could be generated from the property was 'exciting'.
Key Quote
"Last week we closed on a 0.13% to 0.38% non-operated working interest in 13 wells currently producing 27,000 mcfpm. The 13 wells are located in Lavaca County Texas and hold 3,000 acres by production. Several wells on the Lavaca County property are currently being reworked to increase production. " Commented Tom Lull, CEO of Orion. This week we have closed on a 156-acre royalty in the Stack Shale area of Kingfisher County Oklahoma. Several oil companies have reported Initial production from horizontals in Kingfisher County at 6,000 BOE per day from 10,000-foot laterals. The potential income from this Stack Shale royalty is truly exciting."
Technical Data
OODH stock is trading above the 20-Day and 50-Day Moving averages of $0.0343 and $0.0324 respectively. Moreover, the stock is trading above the 200-Day moving average of $0.0310.