Another company which was in focus yesterday after announcing its financial results was Lewis & Clark Bancorp (OTCMKTS:LWCL). The company announced its third fiscal quarter and year to date financial results yesterday. In the three month period ended on September 30, 2022 the company managed to bring in net income of $318,000.
Market Action
On Monday, LWCL stock surged 0.20% to $37 with more than 100 shares, compared to volume of 46 shares. The stock moved within a range of $37.00 – 37.00 after opening trade at $37.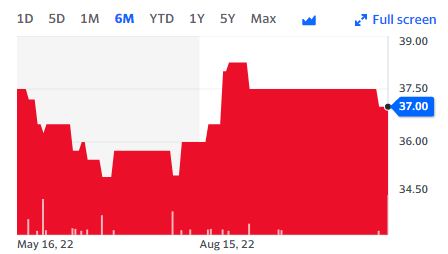 Lewis & Clark Bancorp Announces 2022 Third Quarter and Year to Date Results
However, that reflected a significant drop from the net income of $1,299,000 in the prior year period. On the other hand, the earning per share in the quarter stood at $0.30 as opposed to $1.21 in the prior year quarter. It was revealed that the decline in earnings in the quarter was mainly brought about by drops in both net noninterest income and interest income. Additionally there was a rise in noninterest expenses as well.
In the prior year period, the company had done particularly well through the fees and interest that it had earned from the Payment Protection Program loans. The net income generated by Lewis & Clark Bancorp in the year until date came in at $1,217,000 and that worked out to earnings of $1.13 a share. In the prior year period, the net income was $3,242,000, which worked out to earnings of $2.94 a share.
Key Quote
Jeffrey Sumpter, President and CEO, commented, "Although our quarterly and year to date earnings are less than those reported in the prior year periods, they are in line with our expectations given the many and previously announced strategic investment and growth initiatives that are now in full implementation mode."