It was a hard day in the markets for Seven Arts Entertainment Inc (OTCMKTS:SAPX) as the company's stock suffered a strong selloff and ended the day with a decline of as much as 21% as a consequence. In light of the decline, it may be a good move for investors to take a closer look at the legacy film and music producer and figure out if the stock may make a comeback.
Market Action
On Tuesday, SAPX stock slumped 21.43% to $0.0011 with 255.93 million shares, compared to its average volume 7.43 million shares. The stock moved within a range of $0.0010 – 0.0018 after opening trade at $0.0016.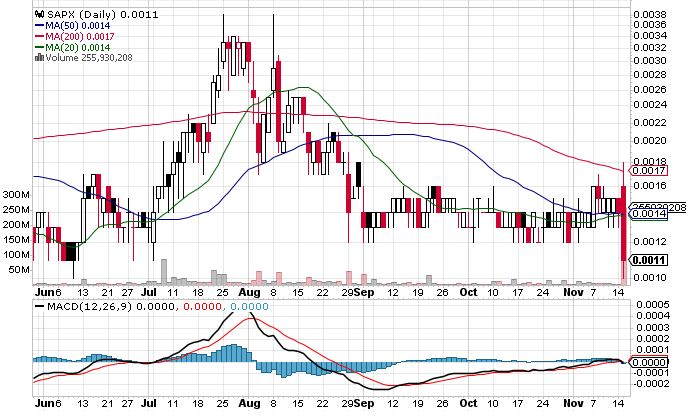 Seven Arts Entertainment Inc. Announces Stock Repurchase Program
The company was in the news yesterday after it announced that its board of directors had given its approval with regards to a stock repurchase initiative. It was announced that as per the provisions of the program, the company was going to look into repurchase as much as $2,000,000 worth of its outstanding shares over a period of 12 months.
Seven Arts noted that the allocated sum could work out to the repurchase of 500 million to 800 million shares. The repurchase of those shares would be conducted at different point in time and will be based on market conditions, as well as the requirements set down by the United States Securities and Exchange Commission. Jason Black, the CEO, noted that the company was now growing confident about its revenue projections.
Key Quote
Stated Seven Arts Entertainment's CEO, Jason Black: "As the Company moves closer to the opening of its Atlanta production facility, we are increasingly confident in our revenue projections and our ability to reinvest in the Company through share buybacks for the sake of continuing to improve the Company's capital structure and shareholder value.
Technical Data
SAPX stock is trading below the 20-Day and 50-Day Moving averages of $0.0014 and $0.0014 respectively. Moreover, the stock is trading below the 200-Day moving average of $0.0017.