This morning it may be a good move for investors to consider taking a closer look at Data443 Risk Mitigation Inc (OTCMKTS:ATDS) after the privacy software and data security firm made a significant new announcement yesterday. The company came into focus yesterday after it announced that it had released Data Hound for Webex by Cisco.
Market Action
On Wednesday, ATDS stock gained 1.18% to $1.7200 with more than 3.32K shares, compared to its average volume of 3.42K shares. The stock moved within a range of $1.7200 – 1.9900 after opening trade at $1.9900.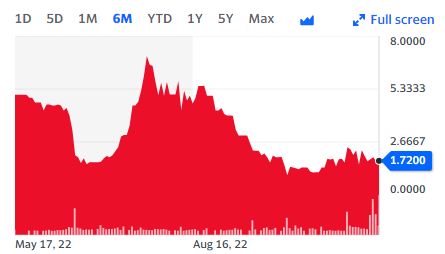 Data443 Expands Data Security Offerings with New Webex Integration
The product is meant for providing collaboration technologies which may help in the powering of hybrid work. In this regard, it is necessary to point out that data privacy and security are very sensitive factors for any organisation. It is necessary for organisations to be aware of the location of all their data and to know about the people who may have access to it.
The Data Hound platform that was launched by the company as an extension of the Data Identification Manager system and it comes with as many as 200 specific integrations. The integrations in question help with fast scanning of data for sensitivity as per the requirements of the client. It has been argued by Data443 Risk Mitigation that such a feature helps with putting in place a strong data security system. It may be a good idea to track the Data443 Risk Mitigation stock today.
Key Quote
"We are excited to showcase our capabilities in identifying, reporting and migrating or deleting sensitive data together with Webex by Cisco. We plan to utilize Cisco's strong developer and marketing capabilities to support our cross platform corporate data discovery offering in a multi-cloud universe," stated Jason Remillard, CEO and founder of Data443.
Technical Data
ATDS stock is trading above the 20-Day and 50-Day Moving averages of $1.85 and $2.05 respectively. However, the stock is trading below the 200-Day moving average of $2.60.