This morning many investors are going to be looking into the Quest Water Global Inc (OTCMKTS:QWTR) stock after the company's stock ended up as one of the major gainers yesterday and ended the day with gains of as much as 22%.
Market Action
On Thursday, QWTR stock moved up 22.45% to $0.1200 with more than 30K shares, compared to volume of 8.85K shares. The stock moved within a range of $0.1200 – 0.1236 after opening trade at $0.1236.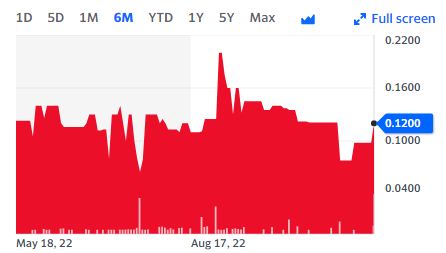 Quest Water And Aquatap™ Oasis Announce Partnership With Trust Merchant Bank And Launch Of New Distributor-Based Business Model
The water technology company, best known for its AQUAtap technology, was in the news yesterday after it made an announcement with regards to its joint venture operation in the Democratic Republic of Congo. The company announced yesterday that its AQUAtap™ Oasis Partnership SARL had gone into a partnership with the Congo based Trust Merchant Bank for the purpose of creating a business model powered by distributors.
In this situation, it is important for investors to keep in mind that AQUAtap™ Oasis is regarded as one of the major innovators in the field of clean water digital distribution. On the other hand, the Trust Merchant Bank is well-known for having played a major role in the creation of the distributor based business model. The bank went about it by way of providing micro fiancé services as well as training to small scale distributors. It may now be a good move for investors to keep an eye on the Quest Water stock.
Key Quote
"Our strategic partnership with Trust Merchant Bank, and the implementation of this new distributor-based business model, will allow us to reach – and change the lives of – a greater number of people," said Dr. Jerome Kalonji, Co-Founder and Managing Director of AQUAtap™ Oasis and Chairman of Kalo Products SARL. "With the launch of this new business model, together with the implementation of our AQUAtap™ App, we are advancing entrepreneurship, jobs creation, financial inclusion, and female empowerment as many of our distributors are women."
Technical Data
QWTR stock is trading below the 20-Day and 50-Day Moving averages of $0.14 and $0.12 respectively. Moreover, the stock is trading below the 200-Day moving average of $0.1246.