One of the stocks which is likely to be in focus among investors this morning is that of Sack Luck Production (OTCMKTS:SAKL), after it emerged as one of the major gainers yesterday and ended up with gains of as much as 20% for the day.
Market Action
On Thursday, SAKL stock soared 20% to $0.0300 with 17.55K shares, compared to volume of 54.51K shares. The stock moved within a range of $0.0300 – 0.0300 after opening trade at $0.0300.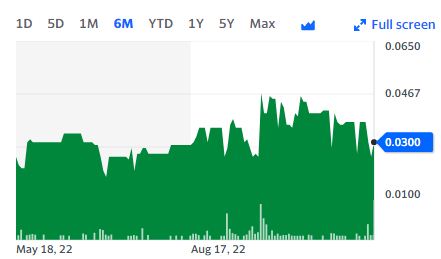 EQS-News: Sack Lunch Productions, Inc. (OTC: SAKL) Target Acquisition Identifies Additional Key Properties for Portfolio of Entertainment IP
On Thursday, the Sack Lunch stock soared after it emerged that the events and entertainment company was aiming to pick up a 45% stake in Arowanas Intellectual Property. By way of this acquisition, the company would get access to Arowanas' intellectual properties which consist of legacy entertainment items, books and films among others. It was also noted that both companies were hoping to close the transaction by the end of this month.
On the other hand, the Chief Executive Officer of Arowanas Mark Newbauer apparently provided the management of Sack Lunch with the list of key properties under its control that may be ideal for acquisition, studio partnership and development. Arowanas has also provided confirmation that it had already entered into negotiations with regards to at least one property. At this point in time, it is going to be interesting to see if the Sack Lunch stock can manage to hold on to its momentum and add to its gains.
Key Quote
In the interim, Mark Newbauer, CEO of Arowana Media, has reported to SAKL management that the Company has confirmed rights availability to key properties it feels are ripe for acquisition, development and studio partnership across several genres including Animation, Family, Action Film Franchise, High Fantasy, and an iconic Hugo award winning sci-fi/fantasy property.
Technical Data
SAKL stock is trading below the 20-Day and 50-Day Moving averages of $0.0362 and $0.0355 respectively. Moreover, the stock is trading below the 200-Day moving average of $0.0462.