If you are currently looking into CBD related companies then it may be a good time to take a look at Branded Legacy Inc (OTCMKTS:BLEG). It is a holding company which is involved in developing CBD infused products and tinctures commercially.
Market Action
On Tuesday, BLEG stock gained 12.36% to $0.0100 with more than 376.52K shares, compared to its average volume of 544.07K shares. The stock moved within a range of $0.0094 – 0.0110 after opening trade at $0.0103.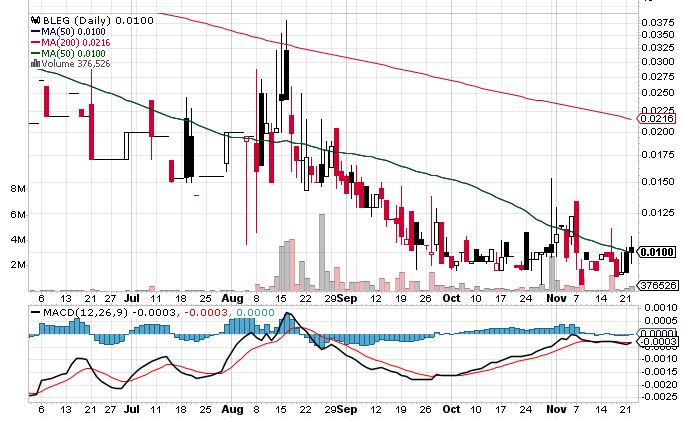 Branded Legacy, Inc. Gets Approval From State to Reduce Authorized Common Shares by 300 Million
The company was in the news yesterday after it announced that its plans to reduce the number of authorized common shares to 600 million units had been approved by the authorities of the state of Utah. Such a move is almost always seen as a source of optimism by investors since it implies that there is going to be far less dilution to the stock.
The chairman of the company Brandon Spikes spoke about the development as well. He noted that everyone at the company was pleased at the fact that the company had finally got the much needed approval for the move from the State of Utah.
Spikes stated that the move was aimed at making sure that there was a strong shares structure at Branded Legacy for its shareholders. He went on to add that the company was looking to keep a low share count so that the shareholders could be confident about the shares that they held.
Key Quote
Brandon Spikes, chairman of Branded Legacy, Inc., stated, "We are very pleased to have the final stamped approval from the State of Utah to reduce the Authorized Shares to 600,000,000. We want to maintain a strong share structure for our shareholders. We want to maintain a low authorized amount to allow our shareholders to feel more confident in the Company. Currently we are in the talks with two Company's for potential acquisitions as well as in the final stages of a joint venture with another publicly traded Company. We are excited to be releasing this news over the coming days."
Technical Data
BLEG stock is trading above the 20-Day and 50-Day Moving averages of $0.0096 and $0.0100 respectively. However, the stock is trading below the 200-Day moving average of $0.0216.