Graystone Company Inc's (OTCMKTS:GYST) stock is one of the big gainers in this morning's trading session after releasing news.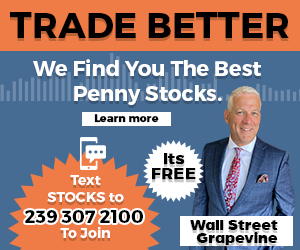 Market Action
As of 12:48 shares of Graystone Company Inc (OTCMKTS:GYST) were up 42% trading at .0399 up .0119. Volume is a heavy 22.3 million shares. This is more than double its 30 day average trading volume of 9.8 million shares a day. GYST opened at .034 and has had a trading range between .034 and .0588. Potential pivot points to keep an eye on are .065 and .089 areas above and .021 and .015 areas below.
The move in Graystone has been brought about by an announcement from the company that it is going to get into Bitcoin mining.

The company announced this morning that it is going to get into Bitcoin mining and is going to set up its mining operations in Miami, Florida. It is a significant announcement from the company considering the continued interest in Bitcoin, the world's largest cryptocurrency by market cap.

In February this year, the City of Miami started offering incentives to crypto-related businesses and that might be the reason why the company is setting up its operations in Miami.
About DRP Gazette
DRPGazette.com reports on news from the Wall Street Grapevine. We cover penny stocks, breakouts, momentum plays, catalyst plays, bounce plays, and more. If you have a news story investors should hear about or are interested in being a guest contributor please contact Editor@DRPGazette.com.