RemSleep Holdings Inc. (OTCMKTS:RMSL) traded higher Tuesday breaking through the .015 resistance area put in February. Traders continued to bid the stock up and it held a new high.
Market Action
RemSleep Holdings Inc (OTCMKTS:RMSL) gained 185% closing at .026 up .0169. The market opened at .0098 and traded between the low of .0097 and the high of .02881. Volume was a very heavy 47 million shares more than ten times its 30-day average trading volume of 4 million shares. Potential pivot points to keep an eye on are .034 and .054 to the upside and .014 and .011to the downside.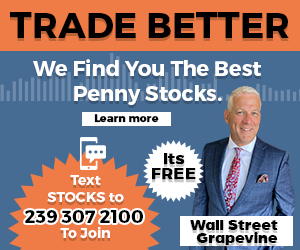 Company Description
RemSleep Holdings, Inc. is a medical device manufacturer dedicated to forever changing the level of treatment provided to obstructive Sleep Apnea patients. Our focus is primarily on designing and manufacturing devices and products for the treatment of Sleep Apnea and other respiratory conditions. With over 30 years of collective experience in CPAP therapy, the REMSleep team has extensive knowledge and understanding of CPAP and the challenges of patient compliance. We diligently strive for our products to make a difference and improve the condition of those suffering from Sleep Apnea.

Highlights from the company profile found on the RemSleep site:
RemSleep is a medical device manufacturer focused on forever changing the level of treatment provided to obstructive sleep apnea patients.
Our DeltaWave interface is designed to provide unparalleled breathability and patient comfort – Patients enjoy normal breathing rates with no mechanical interruption, resulting in better sleep and fewer side effects.
The CPAP interface products we create take the treatment of obstructive sleep apnea to new heights. This starts with our revolutionary DeltaWave device – which delivers air in a way that creates a pressure difference that patients don't even notice, virtually eliminating the "work of breathing". A major breakthrough.
The patent-pending DeltaWave was built with flow dynamics in mind – utilizing a nasal-pillows interface that fosters better compliance. This directly addresses a DME Business survey (Durable Medical Equipment suppliers) which revealed that mask-interface breathability and comfort were the primary concern for 89% of patients.

About DRP Gazette
DRPGazette.com reports on news from the Wall Street Grapevine. We cover penny stocks, breakouts, momentum plays, catalyst plays, bounce plays, and more. If you have a news story investors should hear about or are interested in being a guest contributor please contact Editor@DRPGazette.com.