Shares of Brain Scientific (OTCMKTS:BRSF) have been moving within a narrow range over the past sessions. here are key development.
Market Action
On Monday, BRSF stock ended flat at $0.2995 with 75K shares, compared to its average volume of 2K shares. The stock moved within a range of $0.2995 – 0.2995 after opening trade at $0.2995.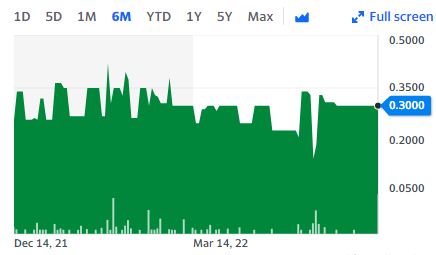 About Brain Scientific
Brain Scientific is a key player in the precision motor technology space. It has invested millions of dollars when it comes to the research and development of affordable piezoelectric motors, in order to meet and exceed the requirements of worldwide markets. It is actively involved in developing innovative technology of motion products that improve functionality in a wide range of applications.
Piezo Motion Launches High-Precision, Standing Wave-Type Line of Motors Ahead of the Energy, Drone & Robotics Summit
Piezo Motion, a Brain Scientific (OTCMKTS:BRSF) company, announced on June 6th, 2022, about releasing rotary motors for devices or applications requiring rapid response times, high-torque, micro-radian resolution, and almost zero backlash. New products are to be unveiled at the Sixth Annual Energy, Drone & Robotics Summit in Houston on June 20-22.
Hassan Kotob, chairman and CEO of Piezo Motion, is thrilled about their Imperial Series rotary motors that offer an amazing resolution, with more than one million steps per rotation. It is an extremely high-performing specification that is much superior to conventional DC motors and best for applications that require silent operation and smooth rotation.
Piezo Motion's new rotary motors are built with technology that provides a stable, accurate motor designed specifically for ultra-smooth, rapid motion required by cutting-edge original equipment manufacturers (OEMs). Benson Engineering is eagerly looking ahead to engaging drone manufacturers and discussing camera gimbal, grab and hold applications using Piezo Motion motors. He feels these lightweight, non-electromagnetic emissions, and power-off for hold-position products will be of great value to drone manufacturers. A whitepaper can be found on the company website that covers the Imperial Series rotary motor specifications.
Piezo Motion Expands Reach into South America
In other news, Piezo Motion has partnered with DHM, a sales and consultant representative firm based in Brazil. Piezo's one-of-a-kind motion control technology will offer precision motor solutions and motion control at a pocket-friendly price to customers in Brazil, along with other areas in South America that specialize in electronic components, modules and systems, and optimum technical services.
The multifaceted rotary and linear motors of Piezo Motors are built with technology that provides a stable, accurate motor designed specifically for OEMs that require ultimate speed, size, and accuracy. These motors are used globally for laboratory instruments, biomedicine, optics, semiconductors, nanotechnology industries, and industrial electronic and automotive systems.
Traders Note
BRSF stock is trading above the 10-Day and 20-Day Moving averages of $0.27 and $0.28 respectively. Moreover, the stock is trading in the oversold zone with RSI stands at 51.