Limitless Venture Group (OTCMKTS:LVGI) gives shareholders access to leading small and medium-sized businesses focusing on growth. The company leverages a disciplined long-term approach, permanent capital base, and actionable expertise. LVGI controls interests in the subsidiaries as it partners with management teams for building businesses with the ability to unlock tremendous value for shareholders.
Market Action
On Wednesday, LVGI stock ended down by 30% to $0.0065 with 5.52 million shares, compared to its average volume of 420K shares. The stock moved within a range of $0.0057 – 0.0098 after opening trade at $0.0095.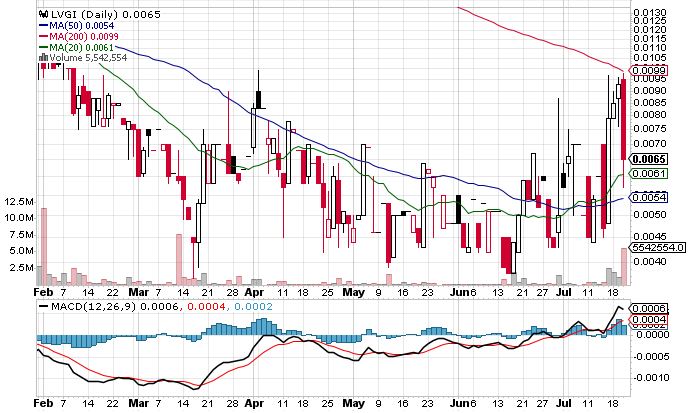 Limitless Venture Group, Inc. Enters the E-commerce Marketplace
Limitless Venture Group Inc on July 20, 2022, announced signing an agreement with G-Venture Group, LLC, a firm specializing in e-commerce store management services for creating an e-commerce store to be hosted on Facebook, and Amazon. This will allow the firm to sell the highest volume of products with significant profit margins on the platforms.
The company has done significant market research into this type of arrangement. This can thus become a robust revenue-generating opportunity with high earnings in a brief period. The firm will be owning 100% of the new business, operating under the newly formed company Limitless Technology Group, LLC.
Joseph Francella, CEO said that he is going with all the force on LVGI harnessing the personal relationships, credit as well as personal assets to back the low-interest loan.
States Devon Diaz, COO of LVGI said that three years back, Amazon's market share of e-commerce retail was 37 percent. Diaz added that the last survey was finished in 2021 and Amazon now has 50% of the entire e-commerce retail market's gross merchandise volume. The COO opined that the numbers are big and give extensive opportunities for online business development. Diaz feels that the stores can generate about $500k in revenues. The goal for the firm is to open eCommerce stores in the next 3 years and earn revenues of about $5.5M with close to $1M in EBITDA.
Limitless Venture Group, Inc. Posts Record Annual Revenues for 2021
Limitless Venture Group Inc on April 4, 2022, announced it had record revenues of $1,589,471 for the 2021 fiscal year vis-à-vis record revenues of $539,230 in 2020, an incredible surge of 195%.
CEO Joseph Francella said that the firm is working hard on ensuring growth and is thrilled about accomplishing the same. Francella expressed gratitude to the Rokin Management team for producing innovative products to grow sales. He added that the firm is scouting for companies to acquire or partner with and 2022 will be a vital year for expansion into new and exciting industries including Metaverse and Medical Marijuana.
Devon Diaz, COO said that the firm has tremendous possibilities. Diaz added that with the acquisition of a Medical Marijuana cultivation facility or cannabis testing lab, the firm has been occupied with negotiating terms. Furthermore, the COO said that it is a fantastic opportunity to work with industry leaders and is also creating a corporate account for purchasing Decentraland Mana. Diaz opined that the company would keep shareholders and the public informed on the progress through the various social media handles.
Key Quote
Joseph Francella, the CEO, states " we're working very hard behind the scenes to continually grow the company and are thrilled that we have accomplished just that, as these numbers reflect. We are especially pleased and thankful to the Rokin Management team for constantly coming up with new and innovative products to grow their sales and business and accomplishing the best year they have ever had." Mr. Francella further states " we are continually searching out companies to acquire and/or joint venture with to continue this record growth and I feel that 2022 will be another record year for LVGI with expansion into several new and exciting industries including Medical Marijuana and the Metaverse."
Traders Note
LVGI stock is trading above the 20-Day and 50-Day Moving averages of $0.0063 and $0.0054 respectively. Moreover, the stock is trading in the neutral zone with RSI stands at 51.