It was a tough day in the markets for investors in DriveItAway Holdings Inc (OTCMKTS:CLCN) as the stock suffered from a strong selloff and went down by as much as 5%. When a stock falls to such a degree, it may be a good time for investors to perhaps figure out if the slide would continue or if there is any chance of recovery. In order to figure that out, you would need to take a closer look at the nature of the company's business and recent developments, if any.
Market Action
On Thursday, CLCN stock ended flat at $0.0949 with 600 shares, compared to its average volume of 20K shares. The stock moved within a range of $0.0949 – 0.0949 after opening trade at $0.0949.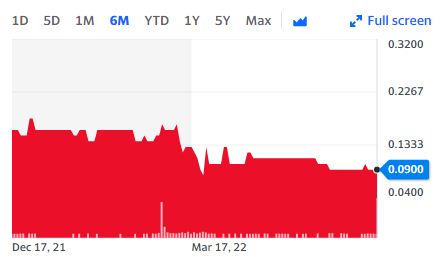 About The Company
DriveItAway is a unique company that had emerged as the first company to offer a mobility platform that was focused on car dealers nationwide. The platform that the company offers helps dealers in selling cars online through an e-commerce channel with ease. The service is provided through a unique 'Pay As You Go' subscription scheme that is offered by DriveItAway.
The company also provides its own mobile technology and an app for drivers as well. In addition to that, DriveItAway also offers insurance and training programs which can help in actually bagging dealerships, getting them running, and eventually turning them profitable through online sales channels.
Not too long ago, the company announced the launch of its 'subscription to ownership' initiative with the view of promoting electric vehicle ownership. As you can see, although the stock declined DriveItAway remains an interesting and innovative company that could prove to be one worth following.
DriveItAway Holdings, Rolls Out More Polestar 2 EVs
On the other hand, the company was in the news yesterday following a key development. The company announced yesterday that it launched its latest electric vehicle subscription to ownership initiative Polestar 2. It is a turnkey subscription program that could fulfill the needs of a whole range of customers.
People often have to wait for longer than expected when they order a vehicle but this offering is going to provide the people with the option of purchasing if anyone grows tired of waiting any longer. It was an important announcement but it seems that it did not quite do the trick with the investors yesterday.
Key Quote
"We have a unique, turnkey subscription program, that in these unprecedented times seems to be fulfilling the needs of many people as the new vehicle shortage continues," says John F. Possumato, Founder & CEO of DriveItAway.
Traders Note
CLCN stock is trading below the 20-Day and 50-Day Moving averages of $0.0975 and $0.1107 respectively. Moreover, the stock is trading in the oversold zone with RSI stands at 45.