Shares of Armm Inc (OTCMKTS:ARMM) would be in focus this week as the company will be hosting an Active Shooter School Training Live Webinar, at the Maglite Campus in Ontario, California.
Market Action
On Friday, ARMM stock ended flat at $1.25 with 100 shares, compared to its average volume of 207 shares. The stock moved within a range of $1.2500 – 1.2500 after opening trade at $1.25.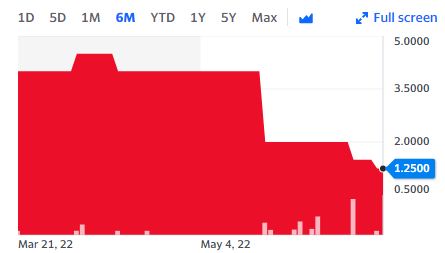 About The Company
Firearms lifestyle platform focusing on self-reliance, Armm Inc (OTCMKTS:ARMM) is disrupting the $51 Billion consumer firearms as well as a rugged outdoor recreational market. Having an app in which users may take safety and training courses through ARMM Academy, firearms-related apparels, access to firearms insurance products as well as engagement with other outdoor enthusiasts, consumers gain exposure to their favorite brands.
ARMM To Host American Tactical Defense MAGLITE® Sponsored Active Shooter School Training Webinar on June 22nd
ARMM Inc on June 18, 2022, announced that the company and American Tactical Defense will be hosting an Active Shooter School Training Live Webinar at Maglite Campus in Ontario, California. Interested users may register for the event using the following: https://www.eventbrite.com/e/368694002687
Teachers participating in the webinar will get a free copy of the Teachers Pocket Guide for Active Shooter Response. School Administrators will get the School Threat Assessment Checklist.
Mark Lawson, CEO of Armm Inc said that firearms education and training, as well as situational awareness, has become extremely important. Lawson added that the company is excited about sharing ATD's invaluable skill set and content for empowering teachers, citizens, and administrators.
ARMM Offers Teachers the American Tactical Defense MAGLITE® Sponsored Active Shooter School Training
Earlier, ARMM Inc had announced adding the American Tactical Defense Active Shooter School Training, sponsored by MAGLITE, to the ARMM Academy. The events happening recently in Buffalo, New York, followed by a tragic school shooting in Uvalde, Texas as well as Tulsa, Oklahoma have put forth national spotlight back on firearms.
The company's leadership believes in empowering companies with confidence, education, and real-world solutions for defending themselves in an active shooter scenario. ARMM is partnering with American Tactical Defense LLC, a proven and active shooter training for schools. The training content would be hosted with the Discipline section of the platform as well as the app.
American Tactical Defense is certified under the school's Active-Shooter Counter Training. The most advanced training given to schools, the program is supervised and is managed by Bryan McKenrick, the COO, who does training for more than 1,000 Federal Officers four times per year.
Bryan has also written on Federal active shooter response as well as training. Having an extensive history, background, and experience in Federal Law Enforcement, Bryan for 24 years has been giving protection and serving the country. In his earlier stint, he also served in an Operational capacity for 8 years in the U.S. Coast Guard. Furthermore, he worked with Federal Law Enforcement Agency for 15 years.