FatBrain AI/ Lzg International Inc (OTCMKTS:LZGI) is the first and leading provider of powerful and easy-to-use AI solutions to millions of businesses. These businesses are driving a significant part of the global economy, empowering their growth as well as saving money. The firm's innovative solutions transform continuous learning, cloud blockchain, narrative reasoning as well as Web3 technologies into easy-to-integrate and auditable. Its subscription model enables companies to deploy advanced AI solutions easily and quickly, utilizing them behind their firewalls or through the cloud.
Market Action
On Tuesday, LZGI stock ended flat at $4 with 90 shares, compared to its average volume of 136 shares. The stock moved within a range of $4.0000 – 4.0000 after opening trade at $4.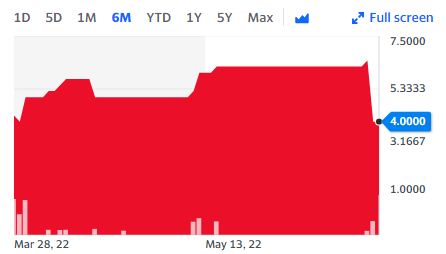 FatBrain Acquires Prime Source, Accelerating AI Solutions Delivery to the Global Community of Growth Businesses
FatBrain AI on June 28, 2022, has acquired the largest independent IT software developer in Kazakhstan, Prime Source. The company is also the fifth largest in Central Asia and has been delivering proven outcomes to enterprises since 2007. FatBrain's mission is to boost businesses, suppliers, clients as well as partners with actionable decision-making. Prime Source's IT engineering scale along with FatBrain's peer intelligence AI enables tens of millions of businesses across Central, Northeast, and South Asia for joining the AI revolution and data cloud.
Peter B. Ritz, co-founder, and CEO of FatBrain AI said that there are over 213 million global growth businesses, which are part of the future. Ritz added that the acquisitions will enable FatBrain to turbo-charge them with solutions that have been only available to large companies.
Evgeny Chsherbinin, CEO of Prime Source said that the firm has created a team culture centered on data-driven transparency as well as outcomes allowing customers to innovate quickly. The CEO added that the extended enterprise reach maximizes impact across economic stakeholders and businesses across the region connecting Europe and Asia.
For instance, Prime Source solutions for corruption risk management as well as financial crime controls allow thousands of businesses for a robust supply chain and compliant financial conduct. The company is excited about simplifying multi-level complexities and looks forward to joining forces to bring the AI revolution to more markets.
Dr. Rajarshi Das, co-founder, and chief scientific officer at FatBrain said that the company's mission is to boost businesses with actionable decision-making for saving money, growing profits, and reclaiming time. Das added that Prime Source and FatBrain are together in supporting the global community of growing businesses.
Key Quote
"There are more than 213 million global growth businesses, so-called SMEs, building the economy of the future today. This acquisition allows FatBrain to turbo-charge these businesses with powerful AI and peers intelligence solutions that have historically only been available to a few of the largest companies," said Peter B. Ritz, co-founder and CEO of FatBrain AI.