Sometimes some companies may be a bit under the radar and that may well be the opportunity for investors to take a closer look. After all, stocks into which many are not looking may well present considerable opportunities. One such company is Tuxis Corporation (OTCMKTS:TUXS), which may not have gotten as much attention from investors in recent times.
Market Action
On Tuesday, TUXS stock ended flat at $3.40 with 145 shares, compared to its average volume of 189 shares. The stock moved within a range of $3.4000 – 3.4000 after opening trade at $3.40.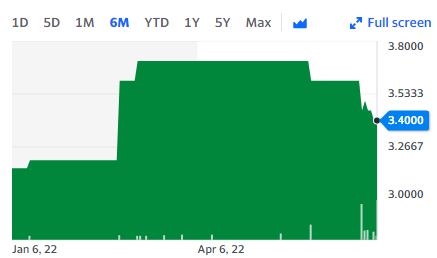 About The Company
Tuxis Corporation operates in the form of a holding company and it is committed to boosting the book value of its shares over the course of time so that its shareholders could benefit. As is the case with holding companies, Tuxis also operates through a range of subsidiaries, and those subsidiaries are mainly involved in the real estate development and management spaces. Now that you have a fair idea about the company, it could be a good idea to take a look at the latest development.
Tuxis Corporation Announces First Quarter 2022 Financial Results
The company had come into focus on Tuesday after it had announced its financial results for the first fiscal quarter that had ended on March 31, 2022. It may be a good move to take a closer look at some of the highlights from the financial results. Tuxis announced that in the aforementioned quarter it suffered a loss of $147,272, which worked out to a loss of $0.12 per diluted share in the company.
The net loss was lower than the $153,224 worth of losses that the company had suffered in the prior-year period. At the time the loss per diluted share in Tuxis had also been $0.12 a share. On the other hand, the book value for each share at the end of the period stood at $6.12 each.
That was all the information that was provided by Tuxis with regard to its financial results and it goes without saying that the information was limited in nature. In the press release, the company noted that the information was not enough for an investor to make an informed judgment with regard to the stock. Hence, it was noted that investors ought to take a look at the unaudited financial results that had been published on the company's website.
Traders Note
GDMK stock is trading above the 20-Day and 50-Day Moving averages of $0.15 and $0.17 respectively. Moreover, the stock is trading in the neutral zone with RSI stands at 50.