Shares of Descrypto (OTCMKTS:DSRO) have been outperforming the broader market weakness. The stock has soared almost 150% in the past week. However, despite the recent jump, the stock is still down 35% over the past month. Here are key details about the company.
Market Action
On Wednesday, DSRO stock was down 15.24% to $0.50 with 5.6K shares, compared to its average volume of 9.6K shares. The stock moved within a range of $0.5000 – 0.5900 after opening trade at $0.59.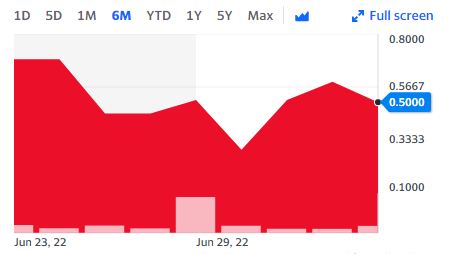 About The Company
Holding company focusing on acquiring businesses in the entertainment and sports industry, Descrypto (OTCMKTS:DSRO), is utilizing blockchain technology for enhancing teams, athlete'sfan's experiences for achieving monetization opportunities.
The company's subsidiary, OpenLocker, is connecting athletes and fans with innovative digital collectibles. This is powered by NFTs and OpenTable, which is part of the OpenLocker vertical. Descrypto is hence creating racing digital collectibles for growing the next generation of fans.
Descrypto Holdings' Subsidiary OpenLocker to Launch the Brave Heartz Lacrosse Club NFT Collection Featuring Premiere Lacrosse League Stars Grant Ament and Rob Pannell to Engage and Mentor Fans Worldwide
OpenLocker Incon July 6, 2022, announced the launch of Brave Heartz Lacrosse Club, an exclusive community dedicated to connecting athletes and lacrosse fans. This would be a limited-edition collection of Non-Fungible Tokens, which will be launched on OpenLocker's platform for providing next-level experiences. The first series will have the Image, Name, and Likeness of Premiere Lacrosse League stars.
Every Brave Heartz Lacrosse Club NFT will have a lacrosse player avatar. This will be a novel combination of randomly generated traits. Furthermore, there will be rare avatars and every NFT will give access to exclusive experiences. This will enable extra benefits determined by the athlete for the exclusive owners.
The openLocker'sfan-friendly platform eliminates obstacles to the adoption of digital collectibles. This is possible by accepting both cryptocurrency and fiat and minimizing the steps needed for setting up a digital wallet. The company connects both physical and digital worlds through a physical card of ownership to fans. This card, a wallet-sized, metal card, is hand-signed by the athlete. It features digital art on one side and a QR code on the back.
Grant Ament said that growing up was not easy for fans to connect with players. Ament added that it is cool to find a way on engaging with the fanbase. The company said OpenLocker gives the best platform to do this and engage with and mentor the next generation of lacrosse players.
Key Quote
Grant Ament stated "Growing up there wasn't an easy way for fans to connect with professional lacrosse players. Being in the position I am now, I felt it would be cool if we could find a way to engage with our fanbase in a genuine way. After reviewing all options, we felt that OpenLocker provided the best platform to do so. We're excited to engage with and mentor the next generation of lacrosse players with OpenLocker's innovative platform.".
Descrypto Holdings Further Develops its Strategic Advisory Board by Appointing Samantha Viola
Descrypto Holdings Inc had earlier announced having another valued member on the Strategic Advisory Board. The company appointed Ms. Samantha Viola to Strategic Advisory Board. She commenced her career in the Professional Employer Organization industry, helping small to medium-sized organizations with Benefits, Human Resources& Payroll. She has been investing in Crypto since 2017. She also led a South Florida-based registered investment advisory firm.
She developed robust relationships with diverse Crypto exchanges like Gemini and has a deep understanding of Crypto, NFTs, and DeFi. Samantha did graduation from Zicklin School of Business at Baruch College in New York City.
Howard Gostfrand, CEO of Descrypto said that the company is fortunate on Samantha Viola joining the Strategic Advisory Board. The CEO added that Samantha has been a participant in all conferences or meet-ups in the Crypto space. He added that her energy, knowledge, and network should open interesting opportunities for the firm. He opined that Samantha would become an important advisor to the team.