BCII Enterprises Inc (OTCMKTS:BCII) is a holding company focusing on identifying, acquiring as well as scaling up disruptive assets in cryptocurrency and blockchain sectors.
Market Action
On Friday, BCII stock ended up by 4.23% to $0.12 with 69K shares, compared to its average volume of 39K shares. The stock moved within a range of $0.1150 – 0.1700 after opening trade at $0.1250.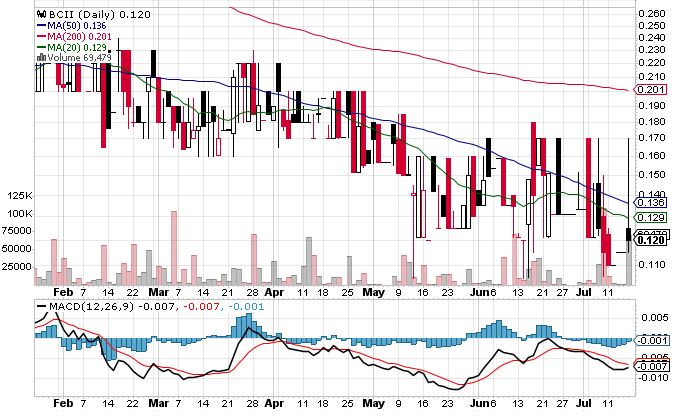 BCII Enterprises Inc. Acquires Innovative Data Company, YourInfo.com Corp
The company on July 15, 2022, announced the acquisition of an innovative data company, YourInfo.com Corp, which enables entities and individuals to profit from the data. YourInfo.com Corp's technology platform will enable companies, individuals, and assets to gather data, which can be harnessed by Facebook, and Google amongst others.
An example of this is the information collected by Facebook in the past and continues to through its sites. This is vital information that the social media giant uses for targeting ads pertaining to the User's interests. However, not many are aware that they can access the valuable information being generated through online activity.
Few individuals know how they can access, aggregate, and monetize personal data in a manner like Google, Meta, and others. This is where YourInfo.com allows users to collect data and then standardize it, to create a "User Data Capsule". Data can be ad-worthy as ad-purchasing parties will be aware that the information collected is also verified. The monetization process will be paid through an NFT related to the User's data, traded on BCII's own marketplace.
YourInfo.com will be creating the NFT annually, which would be holding a key used for accessing the User's Data Capsule. The demand for such data capsules will come from speculators as well as advertisers. YourInfo.com is expecting the launch of the technology and business platform in quarter four of 2022.
Andreas Typaldos, CEO of BCII Enterprises expressed excitement about the prospects and innovative aspects of the acquisition. The CEO said that internet users have not benefitted from their own data, which YourInfo.com hopes to change.
The US online advertising market is expected to grow to $320 billion by 2025, from just $132 billion in 2019. Digital media accounted for about 65% of entire global ad spending in 2021 with Google, Facebook, and Amazon accounting for about 65% of the digital ad dollars spent.
BCII Enterprises Acquires NFT Authentication Company, NFT Clearing Inc.
BCII Enterprises on January 4, 2022, announced the acquisition of 100% of NFT Clearing, Inc. This will be used for authenticating the provenance of NFTs. BCII Enterprises also confirmed the licensing of the DeFi protocol, underlying GOATX.com, which NFT Clearing will harness under BCII.
Andreas Typaldos, CEO of BCII Enterprises said that the company has been dedicated to developing as well as acquiring blockchain-based technologies and products. The CEO added that DeFi protocol is a backbone enabling the firm to create a number of NFT asset classifications like financial assets, carbon offsets as well as other asset categories.
He added that the NFTs sold are arts and collectibles, but the next stage of their growth will be assets like carbon credits, mortgages, and personal attributes. Typaldos believes that the core addressable market for such assets can be $10 to $20 million dollars of NFTs being sold weekly.
Traders Note
BCII stock is trading below the 20-Day and 50-Day Moving averages of $0.13 and $0.14 respectively. Moreover, the stock is trading in the neutral zone with RSI stands at 44.