Tech and media company focusing on digital assets, Image Protect Inc (OTCMKTS:IMTL), has a novel digital asset library and proprietary technology, which was developed by company subsidiary Fotofy. The firm owns and operates, www.legendNFTs.io, an auction for NFTs of Hip Hop artists as well as Sports figures. It has been developing Tokentunz as a site for Music NFTs.
Market Action
On Wednesday, IMTL  stock soared 33.33% to $0.0008 with 185.56 million shares, compared to its average volume of 25.45 million shares. The stock moved within a range of $0.0005 – 0.0009 after opening trade at $0.0007.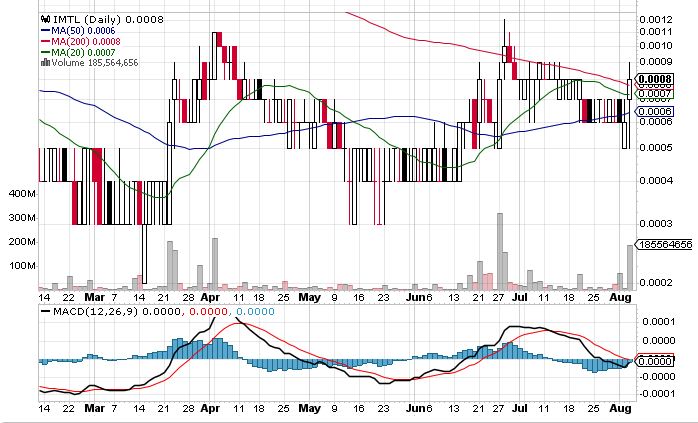 Image Protect Inc. Provides Corporate Update
Image Protect Inc on August 3, 2022, updated shareholders on recent corporate activity. The firm said that since the passing of its former CEO, it has been assessing the existing digital media businesses. It has spent time addressing the structure of contracts, business as well as other legalities besides debt and bank loans. However, Image Protect feels that more work will need to be done in these areas.
Furthermore, the new management has been assessing revenue acquisition candidates, which can potentially complement the existing corporate structure. The firm believes that it has identified a single candidate for enhancing business as well as serving the company and its shareholders.
Image Protect Inc. (IMTL) Announces the Company's Collaboration with the Jim Jones, Christmas Song Set to Launch December as an NFT, On-Boards the Hot Trending Artist, Capella Grey as a Feature Singer
Image Protect in October 2021 announced the official launch of Tokentunz.com, a music site made for releasing original music by independent artists. This would direct the fan base harnessing NFTs with blockchain technology. It had signed an exclusive agreement with Jim Jones for delivering a Christmas song last year and released it on the site as an NFT.
The song for including NFT revenue participation for 7,000 owners was based on Streaming as well as publishing revenue for the life of the song, a first-ever offering. It engaged Capella Grey as a singer on the project.
Capella Grey, who got Gold on December 18 on the record "Gyalis", a single released by Capital Records, is gaining record sales and trending towards Platinum. Jim Jones is a Hip Hop Icon, leading Crypto businessperson, and Industry Mogul, who is assembling a top team of artists for finishing the single in the Christmas Season.
Image Protect CEO, Lawrence Adams said that the company is excited about being the first to market through the delivery of an NFT of Record single by a Major Artist. This will ensure streaming and Publishing revenues, are shared directly with NFT holders. Adams added that partnering with Jim Jones is an honor and the enlisting of a hot new artist, Capella Grey, makes him glad about the progress made to date.
Industry Blog, CoinTelegraph, said that one of the most potent and overlooked impacts of NFTs is on the music industry. The blog states that NFTs can transform the game for independent artists as they give a new lease of life for earning additional income. They also connect with fans and this type of change is much overdue.
Technical Data
IMTL stock is trading above the 20-Day and 50-Day Moving averages of $0.0007 and $0.0006 respectively. Moreover, the stock is trading above the 200-Day moving average of $0.0008.