Founded in 2012 and headquartered in Texas, United Energy Corporation (OTCMKTS:UNRG) is a vertical exploration and production company. It acquires, develops as well as operates crude oil and natural gas assets.
Trading Data 
On Friday, UNRG stock gained 10% to $0.1320 with more than 87K shares, compared to volume of 86K shares. The stock moved within a range of $0.1249 – 0.1320 after opening trade at $0.1299.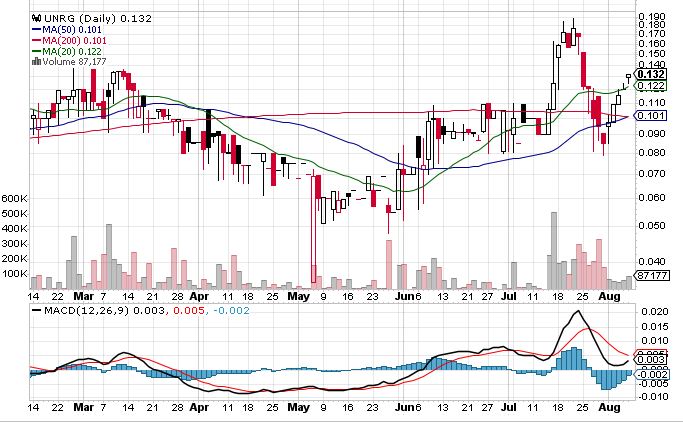 United Energy Announces Major Corporate Advancements
United Energy Corporation (OTCMKTS:UNRG) on August 5, 2022, announced a 100% acquisition of Integrity Terminals, LLC. This is in addition to the firm's existing minority ownership stake of 12%.
Brian Guinn, UNRG CEO said that the complete ownership, as well as operational control, allows the firm to implement aggressive plans for the project's completion. Guinn added that it will also augment shareholder value. The company's hallmarks are Profitability. Responsibility. Sustainability.
UNRG also acquired an option to purchase about 686 acres of land located in Iberville Parish, Louisiana. The purchase will be subject to due diligence studies as well as enabling approvals before closing on the property.
Integrity Terminals, a planned greenfield facility as well as a sophisticated bulk storage import project is in Louisiana's Gulf Coastal area along the Mississippi River. The corridor connects US gas and oil suppliers with both international and domestic markets.  Technology advanced facility will be storing, blending as well as distributing petroleum products, biofuel, biofuel, green energy as well as non-petroleum compounds. While Phase 1 will be focusing on transport and rail storage, Phase 2 and 3 will be incorporating deep-water as well as barge access besides rail storage systems.
The project will be reducing dependence on foreign sources and ensure uninterrupted supply chains. It will also leverage connectivity to pipelines, refineries, and the country's network of highways. The terminal will have eco-friendly and LEED-certified building practices, contributing to a cleaner, healthier environment.
UNRG also announced engaging EXCEL Midstream Solutions, Inc. of Houston, Texas as the strategic design, permitting, and engineering partner. EXCEL gives premier structural, civil, and mechanical engineering as well as maintenance services. EXCEL has an exclusive partnership providing affordable power and fuel, along with significant sustainability.
United Energy Announces Engagement of Investment Bank
United Energy on July 19, 2022, announced engaging Paulson Investment Company, LLC, a highly esteemed investment banking firm with almost five decades of operations, for highlighting UNRG to the investment community.
Paulson Investment Company, LLC has made a name for itself as a premier boutique investment bank. The company participated in over 175 public and private offerings while raising $1.2 billion in financing.
Brian Guinn, UNRG President, and CEO said that the company is pleased on engaging Paulson as the first step toward a long-term successful investment banking relationship. Guinn added that UNRG's market cap is highly undervalued and that the firm will scale up and grow aggressively due to the demand for natural gas.
Furthermore, he stated that the significant partnership will enable UNRG to leverage Paulson's strong network of investors for expanding UNRG's current operations. It will also give the exposure for achieving ambitious future milestones, including becoming a fully-reporting SEC company.
Technical Data
UNRG stock is trading above the 20-Day and 50-Day Moving averages of $0.12 and $0.10 respectively. Moreover, the stock is trading above the 200-Day moving average of $0.10.