NutraNomics Inc (OTCMKTS:NNRX)  is committed on excellence in organic plant-based nutritional science and innovation.
Market Action
On Friday, NNRX stock ended flat at $0.0003 with 116.60 million shares, compared to its average volume of  105.85 million shares. The stock moved within a range of $0.0002 – 0.0003 after opening trade at $0.0003.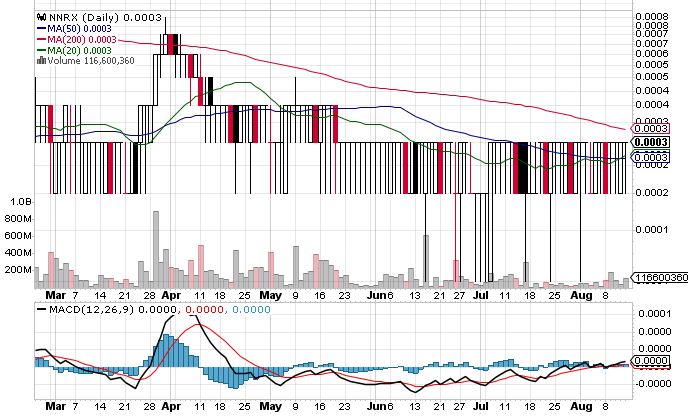 The Plant Partners with Top Cannabis Agency Essential Good to Launch Additional House Brands
Emerging leader in organic plant-based nutritional science and innovation, NutraNomics Inc (OTCMKTS:NNRX) on August 12, 2022, announced that The Plant, its own firm, has partnered with Essential Good, top visionary cannabis product design firm. Essential Good, founded in San Francisco, is developing, and launching additional house branded cannabis products.
Daniel Stein, CEO of Essential Good said that the Essential Good team is excited on working with the Plant. Stein added that the firm is developing capabilities as well as building capacity for serving industry in innovative and fresh ways. Stein further added that the company is witnessing tremendous opportunity in the relationship and looks forward on supporting team as it helps lay groundwork for the future of cannabis industry.
A leading agency in cannabis space of seven years, Essential Good has launched over 25 top brands for national leading cannabis businesses. Its team has experience working at different points of supply chain from cultivation to end market retail.
Deeply rooted in adult-use cannabis movement in the country, Essential Good has robust ties to education, advocacy, and legislation. It has facilitated in launching industry's most defining brands, with a top-tier client list including recognizable brands in California Cannabis marketplace.
Jonathan Bishop, NutraNomics' CEO said that he is thrilled on working with Essential Good. Bishop added that building up stable of strong brands is highest margin way for monetizing the state-of-the-art facility. The CEO also said that the company has significant distribution relationships and there is none more equipped to reach the goal.
NutraNomics Announces OTC "Current" Status, Reports 164% Y/Y Growth for the Three Months Ended March 31, 2022
NutraNomics Inc on August 9, 2022, announced 164% year-over-year growth for the primary operating subsidiary, The Plant, as it filed quarterly report for three months ending March 31, 2022. It has returned to the current status with the OTC Markets Group.
NutraNomics reported unaudited Total Revenues of $867,209 for the three months ending March 31, 2022, which was 164% higher year over year vis-a-vis The Plant's revenues for the same period in 2021.
Sales in the first four calendar months of 2022 was $1.09 million, demonstrating robust year-to-date year-over-year revenue growth of 217%. The company is expecting steady increase in sales performance through end of 2022.
Jonathan Bishop, CEO of NutraNomics said that the company is now completely current on the reporting as well as operating on all cylinders post-acquisition. Bishop also stated that the firm is glad on reporting that it is not a shell risk.
The CEO further stated that the data shows robust rate of growth at The Plant, with topline growth of 160% year over year. As it expands the brands and distribution relationships, the growth rate will have significant room to grow in the quarters ahead. Management opines that the Acquisition of DHS Development Inc. will be instrumental in giving The Plant with critical quarter one funding.
Traders Note
NNRX stock is trading below the 20-Day and 50-Day Moving averages of $0.0003 and $0.0003 respectively. Moreover, the stock is trading is the oversold zone with RSI stands at 52.