The bio-technology development firm, Lotus Bio-Technology Development Corp (OTCMKTS:LBTD), focuses on refining organic materials and producing natural consumer products in China. Formerly known as Starflick.com, the firm changed its name in April 2016. Founded in 2011, the company is based in Cave Creek, Arizona
Lotus Bio-Technology Development Corp, Inc. Initiates Company Name Change
Lotus Bio-Technology Development Corp on August 17, 2022, announced the commencement of the process to change its name to Boomerang Corporation. CEO Hoyt Christopher said that the new name demonstrates the approachable as well as personalized nature of its current and future business aiming to empower users through accessible, customizable, and controllable healthcare.
Boomerang has a model akin to EverlyWell (currently valued at $2.9 Billion) as well as Hims & Hers, Inc. (currently valued at $1.2 Billion). The company delivers test kits to users including self-collection sample devices. The user ships back the sample to the firm's lab through a return label for testing and getting results digitally and also a custom wellness plan. Boomerang provides testing supporting Women's, Men's, and Sexual Health besides Covid-19.
Market Action
On Tuesday, LBTD stock gained 10% to $0.1064 with 62K shares, compared to its average volume of  63K shares. The stock moved within a range of $0.0850 – 0.1111 after opening trade at $0.1059.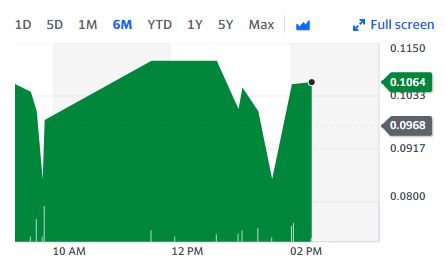 Lotus Bio-Technology Development Corp, Inc, Announces Resignation of Director and Surrendering of 150,000,000 Common Shares to Treasury.
Lotus Bio-Technology Development Corp on August 16, 2022, announced that Zoltan Nagy has resigned as a board member effective August 3rd, 2022. Nagy surrendered to Treasury the legal right, title as well as interest of 150,000,000 Common Shares. Lotus is looking forward to announcing extra board members in the future.
Lotus Bio-Technology Development Corp on August 2, 2022, announced surpassing last year's revenues in just half the time. The firm's combined Year to Date revenues was $6.3 million while the total revenues for 2021 was just $7 million. The firms are quickly flourishing as they advance in the digital health and wellness market. It is on schedule for production of over $100 million in revenue by 2024 as it aims to roll out cutting-edge medical technology.
Boomerang harnesses a comparable business model to EverlyWell, shipping in-home testing kits directly to customers. This enables the customers to take samples using the materials and drop them in mail prepaid expedited packaging. With a user-friendly online interface, customers can order a test, register the kit online, mail the sample back and receive results. Boomerangkit.com, LLC is giving patients with fast and precise information on medical test results.
Lotus Bio-Technology Development Corp's new CEO Hoyt Christopher said that the firm is happy to take the challenge of capturing the unfair share in the Digital Health and Wellness home testing market. Christopher added that it's not daily that one gets the opportunity to lead a firm with such a market cap, intellectual property, and infrastructure to perform well. Furthermore, Hoyt added that the company is confident in its ability to enter the space and is honored to give EverlyWell and Color a run for their money.
Traders Note
LBTD stock is trading above the 20-Day and 50-Day Moving averages of $0.0615 and $0.0558 respectively. Moreover, the stock is trading in the oversold zone with RSI stands at 54.