Leading technology company partnering with top-tier brands for accelerating entry into the world of web3, NFT Technologies Inc (OTCMKTS:NFTFF), on September 23, 2022, announced the appointment of Frank Guo as the new CFO of NFT Tech.
Market Stats
On Friday, NFTFF stock moved up 10.42% to $0.1104 with more than 34K shares, compared to its average volume of 43K shares. The stock moved within a range of $0.0910 – 0.1206 after opening trading at $0.0910.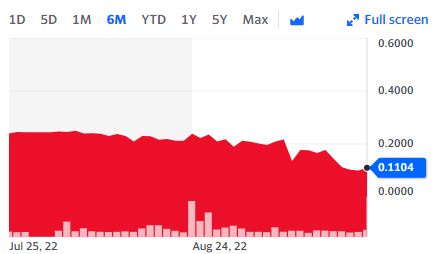 NFT Tech Appoints Frank Guo as Chief Financial Officer
He replaces Inar Kamaletdinov, who was appointed CFO on January 15, 2022. An accomplished multifaceted finance executive, Guo has more than a decade's experience, having led strategic response and business growth.
Guo also has experience in post-merger integrations and M&A strategy. Furthermore, he led finance operations at Mantaro Capital Corp in addition to working at the corporate credit division of RBC Capital Markets.
NFT Tech CEO Adam De Cata expressed delight in having someone with Frank's expertise and experience join the firm. Cata added that the experience will help the company push to new levels and keep it ahead in the industry.
Wayne Lloyd, Executive Chairman of NFT Tech said that the Board of Directors wants to express gratitude to Inar for the dedication and leadership in the last few months. Lloyd added that Inar guided the company in critical activities including the completion of its public listing as well as its first audit.
Guo said that he is honored on joining the team at NFT Technologies and supporting its growth and strategic expansion. He opined that the company can build a robust foundation and a force for brands looking to enter the web3 space.
Key Quote
Commenting on the appointment, NFT Tech CEO Adam De Cata said, "We're pleased to have someone with Frank's experience and expertise join NFT Tech. His accomplishments speak for themselves, and I am excited to see how this experience pushes us to new levels and keeps NFT Tech at the forefront of our industry."