JZZ Technologies Inc. (OTCMKTS:JZZI) announced the closing of its acquisition of LION Development Group LLC for equity, on October 10, 2022.It was announced on October 3, 2022 that the company had acquired LION Development Group LLC, a rapid growth development and construction company focused on residential and commercial projects with a focus on mobility market.
Market Stats
On Monday, JZZI stock surged 3.70% to $0.0014 with more than 4.62 million shares, compared to its average volume of 6.85 million shares. The stock moved within a range of $0.0013 – 0.0014 after opening trading at $0.0014.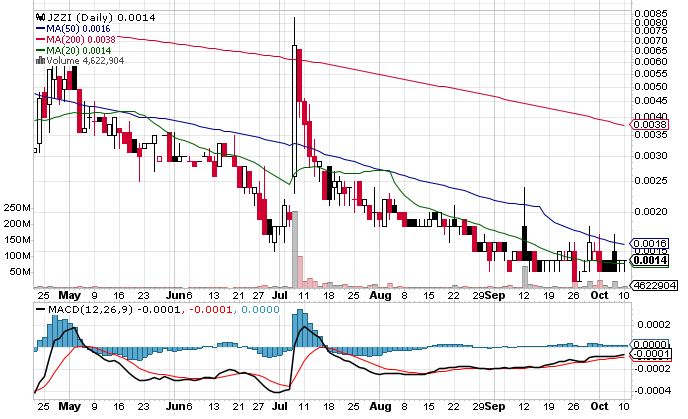 JZZ Technologies Inc. Closes Acquisition of LION Development Group LLC
The founders of LION have successfully executed and completed construction projects valued at over $1,000,000 in fiscal 2020 and $1,500,000 in fiscal 2021. As per the acquisition agreement, JZZ will issue 50,000,000 restricted common shares to LION's stakeholders, while extending management agreements to LION's management team to continue operating LION's day-to-day business. Currently, JZZ isn't assuming any personal or corporate debt of any kind from LION or LION's founders and/or stakeholders. All shares will be issued in accordance with Rule 144 of the Securities and Exchange Commission and will be issued from JZZ's treasury.
This acquisition will boost and expedite JZZ Technologies' entrance into the mobility real estate construction market. It has targeted South Carolina for its profile as one of the best real estate growth markets in the US, mainly due to migration by homeowners fleeing high tax, high regulation and high crime regions. Both JZZ and LION also announced the execution of agreements for a further $1.2 million in construction and development projects in South Carolina on October 6, 2022.
Technical Data
JZZI stock is trading below the 20-Day and 50-Day Moving averages of $0.0014 and $0.0016 respectively. Moreover, the stock is trading below the 200-Day moving average of $0.0038.