If you are currently looking into cannabis stocks which have managed to record strong gains lately then it could be a good move to take a look at the Marijuana Strategic Ventures Inc (OTCMKTS:MSVI) stock. The company, which is now known as Mushrooms Inc, was in focus this past Friday and its stock ended up with gains of as much as 9% amidst keen interest.
Market Action  
On Friday, MSVI stock moved up 9.15% to $0.0334with 859.09K shares, compared to its average volume 71.44K shares. The stock moved within a range of $0.0333 – 0.0549 after opening trade at $0.0360.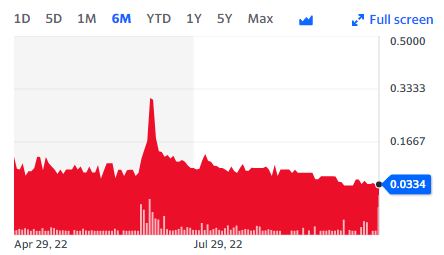 Marijuana Strategic Ventures, Inc. (OTC: MSVI) Now Mushrooms Inc., Announces Positioning for Global Acquisitions and Shareholder Update
The company announced that it was making preparations for acquisitions at a global level and came up with a shareholder update. The company noted that resources had earlier been provided for sales and development of nutraceutical mushroom products development company Telogenix.
However, Mushrooms announced that those resources had been redirected for working on the development for its own proprietary patented technology as well as mushroom business related acquisitions. It was the announcement of a whole new direction and the excitement among investors was perhaps understandable.
It was further announced that it had created an office in Dublin, Ireland, from which it is going to conduct its activities related to the acquisition of mushroom business based out of the European Union. It remains to be seen if the stock continues to add to its gains today or not.
Key Quote
Andrii Bruznia, Director of Acquisitions says, "I am looking forward to this new chapter in my life and the life of my family, as I join the Mushrooms Inc. team. This position will allow me to implement my skills in business and communication to unite Mushroom related companies with an opportunity for growth. I have spent a majority of time understanding the success and expansion potential of companies on both large and small scales and implementing solid pathways to financial gain. Because of this, I believe I am able to assess the acquisition value for both Mushrooms Inc. and the potential acquisition companies, bringing forth a mutually beneficial union."