The announcement about any kind of stock buyback program creates a certain degree of buzz about a company's stock and it remains to be seen if that happens with the Mission Bancorp (OTCMKTS:MSBC) stock today. The company had announced a stock repurchase plan back on April 28 this year, which was going to be in place up until October 28, 2022.
Market Action  
On Friday, MSBC stock slumped 0.56% to $84.50 with more than 564 shares, compared to volume of 176 shares. The stock moved within a range of $84.50 – 84.50 after opening trade at $84.50.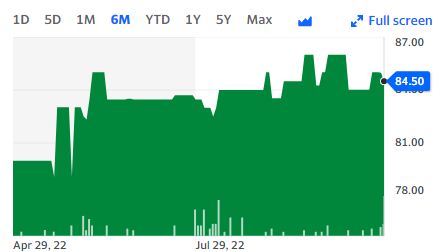 Mission Bancorp Announces Extension of Stock Repurchase Plan
However, last Friday the company announced that it had decided to extend the program and extend it by another six months up until April 28, 2023. That was a major new development and one that could create considerable buzz about the stock. It was noted that Mission Bancorp could repurchase as much as $1 million worth of its stock up until the end of that period.
In addition to that, the initial fund outlay that was related to the whole operation was going to be removed from the whole operation. On the other hand, Mission Bancorp also announced that it could suspend or discontinue the move at any time that it may deem fit. The company has appointed the services of the firm Hilltop Securities Inc to act as its agent in the stock repurchase program.
Technical Data
MSBC stock is trading above the 20-Day and 50-Day Moving averages of $84 and $81 respectively. Moreover, the stock is trading above the 200-Day moving average of $80.