This morning the Oak Ridge Financial Services Inc (OTCMKTS:BKOR) stock may well be in focus among investors after the company announced its financial results for the three month and nine month periods, both of which ended on September 30, 2022. It should be noted that the numbers published by the company were unaudited.
Market Action
On Monday, BKOR stock ended flat at $18.35 with more than 120 shares, compared to its average volume of 631 shares. The stock moved within a range of $18.35 – 18.35 after opening trade at $18.35.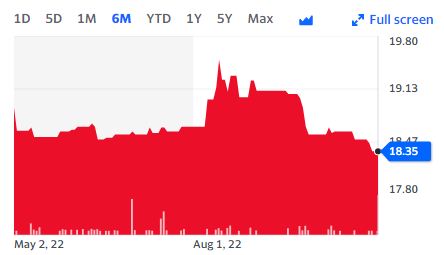 Oak Ridge Financial Services, Inc. Announces Third Quarter 2022 Results and Quarterly Cash Dividend of $0.08 per share
The company announced that it generated basic and diluted earnings per share to the tune of $0.59 in the quarter. That reflected a year on year decline of 16 cents a share or 21.3%. On the other hand, the return on average common shareholders' equity on an annualized basis came in at 12.35% for the three month period and that was again a drop from the 16.40% under the same overhead in the prior year period.
The loans in the books of Oak Ridge at the end of the period, excluding the PPP loans, stood at $436 million. That reflected a rise of as much as 6.19% from the $410.6 in loans at the end of December 31, 2021. In this regard, it should be noted that the non-performing assets went down by as much as 70.8% from December 21, 2021 to hit $871,000.
Key Quote
Tom Wayne, Chief Executive Officer and Chief Financial Officer, reported, "I am extremely pleased with our continued strong financial performance in the third quarter of 2022 despite the reduction in the bank's PPP income in 2022. Our team has shown great resilience and performance as we navigate the changing economic and social environment, with the Company producing greater than double digit return on equity for the last six consecutive quarters. Additionally, our ratio of nonperforming assets to total assets declined from 0.51% on December 31, 2021, to 0.15% on September 30, 2022."
Technical Data
BKOR stock is trading below the 20-Day and 50-Day Moving averages of $18.84 and $18.71 respectively. Moreover, the stock is trading below the 200-Day moving average of $18.62.