This morning investors may consider taking a look at the Alaska Power & Telephone (OTCMKTS:APTL) stock after there was a significant new development with regards to its subsidiary unit AP&T Wireless. On Thursday, it was announced that AP&T Wireless had been successful in concluding its work regarding the installation of the SEAlink submarine fiber optic cable system.
Market Action
On Thursday, APTL stock ended flat at $77 with more than 1 shares traded, compared to volume of 31 shares. The stock moved within a range of $77.00 – 77.00 after opening trading at $77.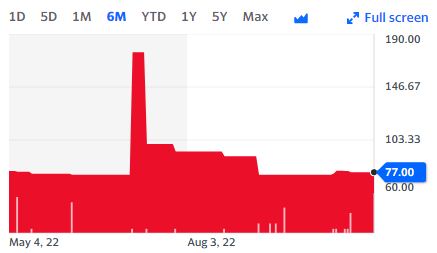 Alaska Power & Telephone Completes Installation of the SEALink Submarine Cable System Between Juneau, Prince of Wales Island, and Petersburg
By way of this installation, the Prince of Wales Island is going to be connected to North America and the rest of the world through a fiber optic link for the first time. It goes without saying that it was a major new development for the company and it is going to be interesting to see if the Alaska Phone stock garners any attention from investors or not.
In this context, it should be noted that the fiber optic program is major part of a fiber optic deployment in the region thanks to a grant worth as much as $21.5 million from the USDA Rural Utilities Service ReConnect program. In addition to that, there was private investment to the tune of as much as $7 million towards the project as well and that had been made by Alaska Phone.
Key Quote
"I have consistently worked to spur progress for infrastructure development to help Alaskans, particularly when it comes to connectivity. I have urged USDA to support the installation of the SEALink submarine cable system, which is finally coming to fruition. This new installment will allow Prince of Wales Island a direct cable connection to the continental U.S. for the first time in history—a truly significant milestone," said Alaska Senator Lisa Murkowski. "Alaskans are versatile and resilient and have found ways to adapt to the lack of basic needs that many Americans may take for granted—but even so, they deserve to have access to quality broadband. I thank the many Alaskans who helped make this project a reality and look forward to seeing the positive impacts this will provide to businesses, education, healthcare, and so much more."