The parent company of the M&F Bank, M&F Bancorp Inc (OTCMKTS:MFBP) was in the news last week on November 3 when it made an announcement with regards to its financial results for the third fiscal quarter ended on September 30, 2022. It should be noted that all the figures were unaudited.
Market Action
On Friday, MFBP stock surged 0.11% to $17.72 with more than 146 shares, compared to volume of 4.06K shares. The stock moved within a range of $17.72 – 17.72 after opening trade at $17.72.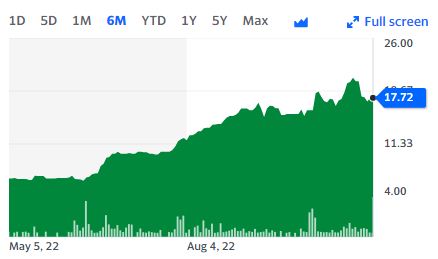 M&F Bancorp, Inc. Announces Third Quarter 2022 Results and Quarterly Cash Dividend
In addition to that M&F Bancorp also announced quarterly cash dividend to the tune of $0.03 per share. In the aforementioned quarter, the company managed to generate basic and diluted earnings per share to the tune of $0.51 and $0.50. The reflected a year on year boost of $0.07 and $0.06 per share. In the nine month period ending September 30, 2022, the company managed to generate diluted and basic earnings per common share of as much as $1.37.
That reflected an improvement on the earnings of $0.98 a share back in the same period in 2021. On the other hand, the return on the average equity of shareholders for the three month period came in at 18.47% and that reflected an improvement once again on the 14.30% return on shareholder equity in the same period back in 2021. It may be a good idea to add the M&F Bancorp stock to your watch lists.
Key Quote
James H. Sills III, President and CEO of the Company, commented, "We continue to be pleased with the financial results through the first nine months of the year. All our metrics, ratios and total asset growth numbers continue to increase in a challenging environment. We are excited to develop strategic plans to leverage the recent $80 million in new capital from the U.S. Treasury Emergency Capital Investment Program. This investment will allow the Company to continue the mission of providing capital to small and medium sized businesses across the state. Finally, we are closely watching the economic conditions related to inflation, rising interest rates, asset quality metrics and loan demand going into the fourth quarter."
Technical Data
MFBP stock is trading below the 20-Day and 50-Day Moving averages of $18 and $17.50 respectively. However, the stock is trading above the 200-Day moving average of $10.