Disruptive music technology firm VNUE Inc (OTCMKTS:VNUE) is one of the companies that may come into focus among investors today after it made a significant new announcement yesterday. On Thursday the company announced that it had set up a joint venture with the biggest entertainment and gaming Co-development Company in South America Kokku.
Market Reaction
On Thursday, VNUE stock rose 1.41% to $0.0072 with more than 11.61 million shares, compared to its average volume of 6.88 million shares. The stock moved within a range of $0.0063 – 0.0074 after opening trade at $0.0074.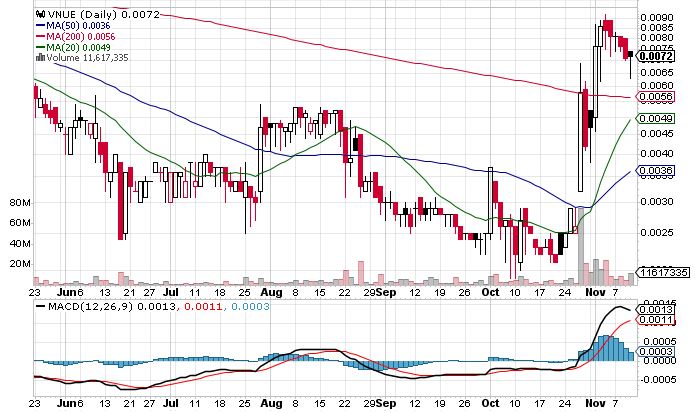 Vnue, Inc. & Kokku Announce Joint Venture
The joint venture is going to be involved in providing entertainers with all the necessary solutions so as to better manage the execution, management, promotion and production of experienced on the metaverse. It goes without saying that the joint venture in question is an ambitious one and could help VNUE become a major player in the potentially lucrative metaverse space.
In this context, it should be noted that the VNUE Icon Program developed by the company is expected to be of particular importance. It is a hub which allows the company's clients to manage the different aspects of its business easily and it appears the company is going to deploy it for this joint venture. The joint venture that is going to be established between the two companies is the second phase of the partnership that had been announced not too long ago.
Key Quote
VNUE CEO Zach Bair said, "The metaverse is a complex environment and presenting music and entertainment in this world on a persistent, turn-key basis is no mean feat. This is what our JV is all about. On Roblox, VNUE basically owns the "real estate" – the stages, festival and the environment –- and VIP will provide expansive services to those who wish to utilize it. Leveraging our background as a renowned music-tech company, with our core team members all having spent decades at the highest levels of the music business both in the "live" world and in the label world, we have the knowledge and experience to translate the "real world" music business to the metaverse, and we are completely stoked to partner with global and well-known developer Kokku to offer artists the advanced technology and amazing graphical experiences needed to truly entertain in the metaverse."
Technical Data  
VNUE stock is trading above the 20-Day and 50-Day Moving averages of $0.0057 and $0.0036 respectively. Moreover, the stock is trading above the 200-Day moving average of $0.0056.