It was a tough day in the markets for investors in Quantum International Corp (OTCMKTS:QUAN) as the company's stock suffered from a steep selloff and went down by as much as 10% for the day. The company came into focus last Friday after it provided key updates with regards to the LootUp and CannaLootUp apps.
Market Action
On Friday, QUAN stock moved down 9.77% to $0.0771 with more than 55.53K shares, compared to volume of 51.31K shares. The stock moved within a range of $0.0750 – 0.0909 after opening trade at $0.0855.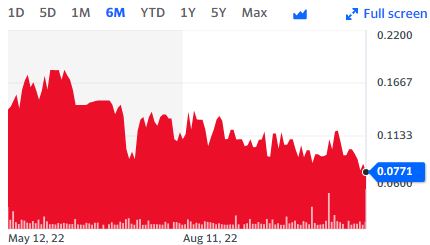 Quantum International Corp. (QUAN) Provides Updates on CannaLootUp and LootUp Apps
The updates were directed at the cannabis industry. Quantum International announced that it would be in attendance at the MJBizCon Convention that is going to be held from November 15 to November 18 in Las Vegas. To that end, a QR code was developed by the company that would reveal a  white paper enumerating the advantages of using the CannaLoot App.
Quantum International announced that the CannaLoot App is not only going to be perfect for the cannabis industry but it will also help the growth and expansion of the Psilocybin Mushroom industry.
On the other hand, the LootUp App has inked a sponsorship deal with the Dubai based Global Titans LLC. As per the terms of the sponsorship, it is going to include media wall branding among other things and presence on promotional material at the event.
Key Quote
"CannaLootUp makes Dispensary, grower and seed company payments simple; in fact, users won't even really need to think about it as crypto but rather CannaLootUp. It will feel like a normal payment app, but better! Our team has worked tirelessly to complete the new App, and we are ecstatic that it will be available for download soon. I want to thank our entire team for their efforts in completing the project," said CEO Justin Waiau.
Technical Data
QUAN stock is trading below the 20-Day and 50-Day Moving averages of $0.0965 and $0.1030 respectively. However, the stock is trading below the 200-Day moving average of $0.1328.