On Tuesday, Medical Care Technologies Inc (OTCMKTS:MDCE) was in the news after it came up with a major new update and it could be a good time for investors to consider taking a closer look. The company announced yesterday that it was an exciting period for it since it had entered the fourth fiscal quarter and it was the first one in which its financials are going to be reported with Infinite Auctions LLC as one of its assets.
Market Action
On Tuesday, MDCE stock ended flat $0.0050 with 2.48 million shares, compared to its average volume 1.18 million shares. The stock moved within a range of $0.0046 – 0.0054 after opening trade at $0.0047.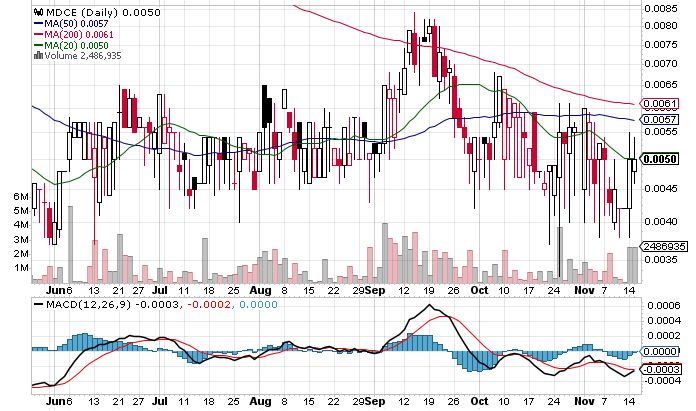 Medical Technologies, Inc. / Infinite Auctions (OTC Pink:MDCE) Provides Shareholder Update
The Chief Executive Officer of the company Marshall Perkins spoke about the situation. He noted that the aim of Medical Care was to create long term value for the company's shareholders. The company hoped to achieve that through a well calculated plan of growth and predictable revenue generation.
Such a plan could help the company in being immune from the vagaries of an up and down economic climate. He went on to add that it has been the aim of Medical Care technologies to build a strong foundation from which it would be possible for the company to build its business. It was a significant new announcement and it remains to be seen if it leads to any positivity from among shareholders or not.
Technical Data
MDCE stock is trading below the 20-Day and 50-Day Moving averages of $0.0050 and $0.0057 respectively. Moreover, the stock is trading below the 200-Day moving average of $0.0063.