A stock that is quite likely to be on the radars of investors after the remarkable rally yesterday is that of TPT Global Tech Inc (OTCMKTS:TPTW), which ended up with gains of as much as 82% for the day.
Market Action
On Wednesday, TPTW stock surged 82.61% to $0.0084 with more than 255.45 million shares, compared to its average volume of 11.13 million shares. The stock moved within a range of $0.0047 – 0.0089 after opening trade at $0.0065.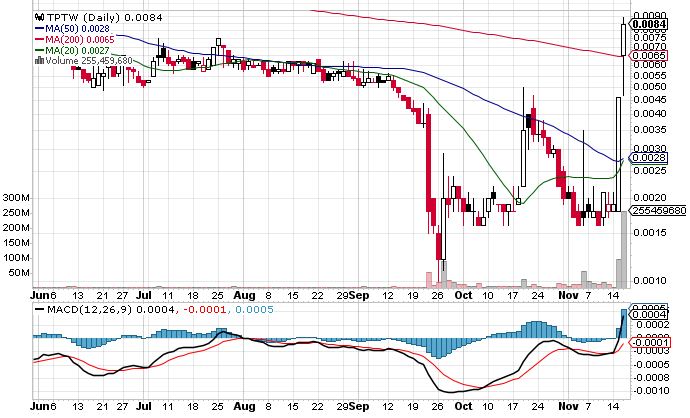 TPT Global Tech Inc. Signs Strategic Investment & Partnership Agreement with New York Real Estate Investment Firm Black Pearl Investments (BPI)
The technology company came into sharp focus yesterday among investors after it announced that it had inked a Strategic Investment Partnership Agreement with Black Pearl Holding Co. and The Triwest Financial Group Inc. As per the provisions of the agreement the company is going to be involved in the management, development, manufacturing and investment in projects that belong to the two above mentioned companies.
The projects in question are going to commercial real estate, smart green cities, industrial smart parks, infrastructure, residential housing and sustainably developed projects. Black Pearl is a real estate development firm which is based out of New York and the investments that are going to be made by the company are going to be through structured funds and dedicated credit facilities.
The construction activities and other related aspects of the projects are going to be managed through the Real Estate and Development Technology division of TPT Global. It remains to be seen if the stock continues to rally today or not.
Key Quote
Mr. John Richard (J.R.) Chantengco, Founder & Managing Director of Black Pearl Investments said, "We are always seeking cutting-edge opportunities for funding as well as synergies which will allow us to contribute strategically through our varied expertise and strengths. We are excited to be partnering with TPT Global Tech, Inc. which has a strong sense of the needs of the future, whether it is smart living, smart working, or smart sustainability and this resonates very well with our investment mandate which is to support next-generation businesses and technologies that will truly make a difference in our society."
Technical Data
TPTW stock is trading above the 20-Day and 50-Day Moving averages of $0.0029 and $0.0028 respectively. Moreover, the stock is trading above the 200-Day moving average of $0.0065.