The chart might look a little frothy to some folks, but I assure you, this TPS setup is the real deal.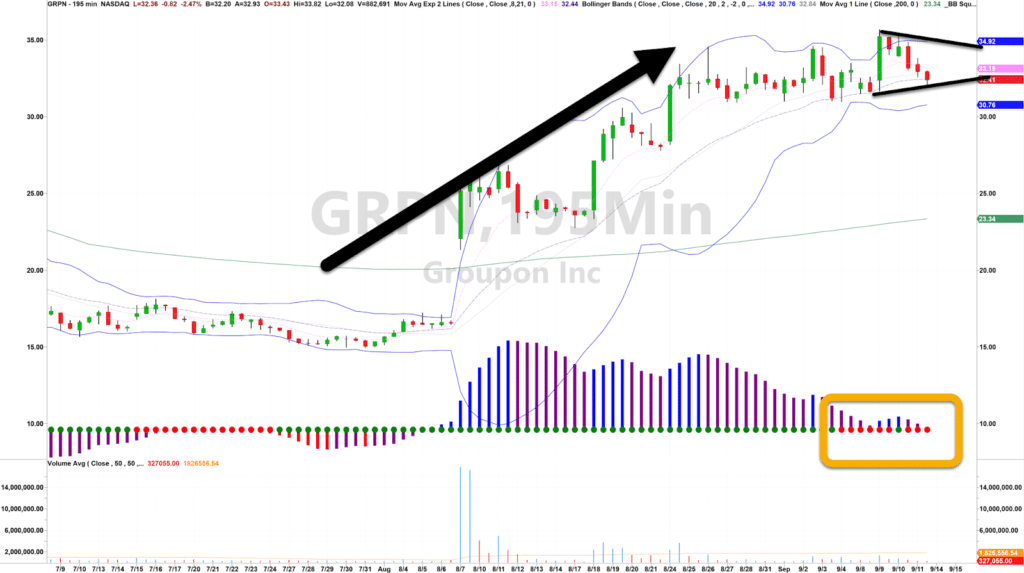 As a refresher, the TPS setup includes three key elements.
Trend – Groupon surged out of the consolidation on strong volume. It may a clear push higher that leaves no room for ambiguity about which way the stock is heading.
Pattern – Connecting the tops and bottoms of the candlesticks with the black trendlines, I draw out a consolidation pattern. You can see in the most recent candlesticks how they're trading inside of the larger green one. That's a common consolidation formation that often occurs before the next breakout.
Squeeze – One element unique to my trading is the squeeze. A squeeze occurs when the Bollinger Band indicator slips inside the Keltner Channel. It sends a signal price is compressing and readying to break out. The red dots show this stock is getting ready to move.
What's neat is you can see how the squeeze already fired once, leading to the big green candle just the other day….
…and that was just a mild push.
If we get a real short-squeeze, then we could see price expand the full distance of the recent trading range above the recent highs.
For my entry, I want to be a little more conservative with this being options expiration week.
So, I may opt to pick entries between the 21-period exponential moving average and the lower Bollinger Band.
That gives me a smaller potential loss compared to my reward.
At the same time, I also want to see the momentum shift to the bullish side on a smaller timeframe like the 15 or 30-minute chart.