SurgePay Inc. (OTCMKTS:SURG) Filed its 10k Friday April 2, while markets were closed in observance of Good Friday. How will investors react Monday when the market opens?
While nothing in the market is certain there did appear to be some good news within the 52-page document that investors just may get excited about.
Revenue increased 111% from $25,742,941in 2019 to $54,406,788 in 2020.
The filing explains: Revenue increased $28,663,847 (111%) primarily as a result of the increase of the ECS revenues of $24,094,753 and an increase of $9,195,691 in revenues from Surge Logics offset by decreases of $3,044,411 in True Wireless, Inc. and $3,697,947 in Surge Blockchain LLC.
Gross profit decreased from $3,119,420 in 2019 to $2,468,677 in 2020. The filing says "gross profit decreased by $650,743 (21%) primarily as a result of a decreases in gross profit of $201,847 in True Wireless, Inc. and $765,572 of Surge Blockchain LLC that offset the gross profit gains from the increased revenues of the other subsidiaries."
While gross profits were down there does appear to be some light at the end of the tunnel.
On page 15 it says: "We believe we will continue to incur net losses and do not expect positive cash flows from operations until the 4th quarter of 2021. At that time, we believe the impact of COVID-19 will have rescinded enough to allow us to fully implement our sales strategy, resulting in increased revenue in all segments of our business."
So we will see what investors think about this but it appears SurgePay Inc. (OTCMKTS:SURG) may be heading in the right direction.
Here is some additional company information taken from the filing.
Business Overview
SurgePays, incorporated in Nevada on August 18, 2006, is a technology-driven company building a next generation supply chain software platform that offers wholesale goods and services in a cost-efficient manner as an alternative to traditional wholesale supply chain distribution models. We offer goods and services direct to convenience stores, bodegas, minimarts, tiendas and other corner stores, providing goods and services primarily to the underbanked community. Our products are currently distributed nationwide using our direct to store distribution ("DSD") system that reaches more than 8,000 outlets. We market our products using a range of marketing mediums, including in-store merchandising and promotions, experiential marketing, sales spiffs and incentives, digital marketing and social media, and internal regional salespeople.
Competitive Edge
Our competitive edge is simple; we have the ability through our software platform, along with our relationships, capacity, efficiency, economies of scale and experience necessary to bring our products or services to market in an effective and efficient manner to ensure success. Our blockchain platform streamlines the process for bringing products directly to the targeted retail store. Our sales protocols have been tested and proven transferable from one product offering to another while ultimately improving our target stores with better pricing and more product selection. Our strategy for increasing revenues is based on developing, maintaining, and expanding our nationwide network of retail stores. Our relationship-driven approach to selling along with providing many of the top selling c-store products at a wholesale discount greater than traditional distributors gives management confidence of continued growth into the foreseeable future.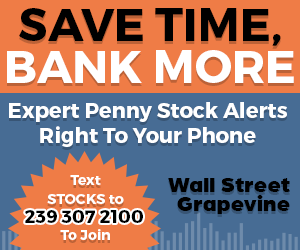 About DRP Gazette
DRPGazette.com reports on news from the Wall Street Grapevine. We cover penny stocks, breakouts, momentum plays, catalyst plays, bounce plays and more. If you have a news story investors should hear about or are interested in being a guest contributor please contact Editor@DRPGazette.com