All American Gold Corp (OTCMKTS:AAGC) is up big today. No news to be found and the company is listed as a shell on their information page at OTCmarket.com. However, if we take a look at their disclosure page we can see the company has been busy over the last few months bringing their filings current. In February they filed 2019 and 2020 quarterly and annual reports.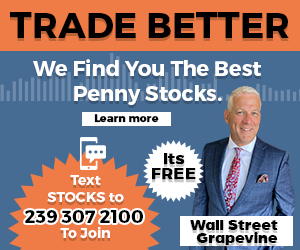 Price Action
As of 11:15 4/5/2021 American Gold Corp was trading at .0091, up .00496 for a gain of 119%. Volume was 194 million shares well above its 10 day average of 11.6 million and 30 day average of 38.8 million shares a day. Pivot points to watch may be .008693, .013247, and .019447.
AAGC By The Numbers.
Taken from the 2020 annual report
Total shares authorized: 1,500,000,000 as of date: November 30, 2020.
Total shares outstanding: 1,469,409,932 as of date: November 30, 2020.
Number of shares in the public float 960,140,161 as of date: November 30, 2020.

About DRP Gazette
DRPGazette.com reports on news from the Wall Street Grapevine. We cover penny stocks, breakouts, momentum plays, catalyst plays, bounce plays and more. If you have a news story investors should hear about or are interested in being a guest contributor please contact Editor@DRPGazette.com